Dr Charles Little was a country doctor looking after the area from Waikari to Waiau. When the 1918 influenza epidemic struck he travelled the district night and day to visit patients. He too became ill and died at Christchurch Hospital on 26 November, 1918.
Early life
Charles Little was born in Dunedin in 1866, the son of Jane Elizabeth Townley and her husband, Samuel Heath Little, an accountant. Dux at Otago Boys' High School in 1882, he graduated MB.ChB. from Otago University College in 1893. A general practitioner, he dwelt at Culverden and had oversight of the area from Waikari to Waiau 1. Visiting physician at the Hanmer thermal resort, he held his practise there once a week 2.
A visitor to Hanmer, J. M. Thompson, was much struck by the courtesy and kindness of Dr. Little 3. who had to travel 24 miles to the spa. Thompson considered that it was inconvenient for the physician to come so far and, potentially, a risk to patients. He suggested that inducements … be offered to Dr. Little to shift his headquarters to Hanmer4. If inducements were offered, Little did not accept them.
Family life
In 1904 Charles wed Ethel Bell, the daughter of a Christchurch accountant 5. Soon after the birth of the couple's son, Trevor Murray Townley, in November 1906, Ethel, 31, died. In December, Trevor died at the age of seven weeks 6. By 1914, Charles was living at Waikari. In 1916, he married Hephzibah Kennedy who had been a nurse at Townley Maternity Hospital, Gisborne, and Christchurch Hospital 7.
Fighting the epidemic
In North Canterbury, Charles and Hephzibah Little fought the outbreak. By night and day Charles criss-crossed his large district. Struck down, the pair were transported to Christchurch Hospital. The doctor, 52, died, on 26 November; Hephzibah, 35, succumbed four days later. The Little family is buried at Linwood Cemetery, Christchurch 8.
Memorial to Dr Little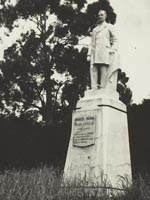 In North Canterbury, residents realised the need for a local hospital and campaigned successfully to have it built at Waikari. Their actions were, in part, an attempt to honour Dr. Little. To Henry Saundercock, storekeeper, this was not enough. He chaired a committee which commissioned William Trethewey to produce a statue of the doctor. To reduce costs, the sculptor had the body carved in Italy with the head blocked out in rough form for Trethewey to complete in his studio. The statue was unveiled in 1929 9. There is a second monument to Dr. Little – formerly near the roadside but now in the Rutherford Reserve, Culverden. North Canterbury residents thought the Charles Little statue wonderfully like their old friend10.
Sources
Books
Footnotes
1 Community Archive, Cotter Medical Archive Trust, Little, Charles Thomas Wilson, 1866-1918
2 'Where to spend a holiday. A visit to Hanmer Springs', Star, 19 February 1902 p 4
3 'Local and general', Star, 25 April 1903 p 5
4 Ibid.
5 Church register transcripts, Christchurch City Libraries and Canterbury Group, New Zealand Society of Genealogists
6 Cemeteries database, Christchurch City Libraries; Monumental transcripts of Linwood Cemetery, Christchurch, New Zealand, 1979
7 'State examinations of midwives', Kai Tiaki: the journal of the nurses of New Zealand, July 1913,  p. 93
8 Cemeteries database, op. cit; Kai Tiaki : the journal of the nurses of New Zealand, January; 1919, p 45; Monumental transcripts, op. cit; 'Obituary', New Zealand medical journal, 1918 p 228; Pryor, p 32
9 Pryor, Ted, Rising of the phoenix: a tribute to the life and works of William Thomas Trethewey, sculptor of Christchurch, 2002, p 32; Rice, Geoffrey, Black November, 2005, p. 158
10 Pryor, p 32