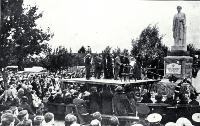 Margaret Barnett Cruickshank was the first woman general practitioner in New Zealand. At the time the 1918 influenza epidemic struck she was the only doctor in Waimate. She battled the disease tirelessly but eventually became ill herself and died on 28 November, 1918.
Early life
Born at Palmerston, Otago, in 1873 she was the twin daughter of Margaret Taggart and her husband, George Cruickshank, a contractor. Margaret Cruickshank senior died in 1883. Margaret junior and her twin, Christina, were, academically, far ahead of their peers but obliged to care for younger siblings. However, the regulations of the state primary school system were imperfectly carried out. Thus one sister was able go to school on Monday and, in the evening, teach the other what she had learned. On Tuesday, the roles were reversed.
The Cruickshank sisters were joint-dux of Otago Girls' High School in 1891. From there they moved to Otago University College. Christina followed a well-trod bluestocking path, becoming a highly regarded school teacher. Margaret entered new territory and, in 1897, graduated with a medical degree.
Doctor in Waimate
At Waimate, South Canterbury, she entered general practice. 1 Margaret abhorred publicity. However, as the country's second woman doctor and the first to become a G.P., it was inevitable that reporters would come knocking on her door. She thought herself a lowly physician and hardly fitted to speak … dogmatically about questions affecting woman practitioners 2. She did state that she had experienced no hostility from male colleagues.
Margaret had much involvement with the local hospital. When her partner went to the First World War, she managed the practice and, with two others, shared the role of hospital superintendent. For a long period she was associated with the nursing fraternity, lecturing and examining nurses and directing their work. She extended a helping hand to many 3.
Influenza comes to Waimate
When the influenza struck Waimate Dr Cruickshank was already worn out from the strain of single practice while her partner Dr H. C. Barclay was on active service overseas. She continued to minister to the people of Waimate, continuing her rounds on bicycle and by horse and gig when her driver became ill. She multi-tasked, milking cows and feeding babies. She remained at her post for several days after she had herself contracted the disease in a fatal form, and only gave in … when she was completely spent  4. Margaret succumbed to pneumonia on 28 November.
A memorial at Waimate
Waimate residents asked the sculptor William Trethewey to design a statue of their late doctor. Guided by photographs, he produced a plaster bust and sought feedback by placing it in a local shop window. He then created, in his Victoria Street, Christchurch, workshop, a 3.3 metre Carrara marble statue depicting a forthright … regal-looking woman clothed in … academic gown, with … Bible in her left hand … 5. Margaret Cruickshank's relatives thoughtthe likeness … a true one 6. and townsfolk spoke of having a memorial worthy of a master sculptor 7.
The Waimate statue was unveiled by Mrs. Barclay, wife of Margaret Cruickshank's medical partner, in the town's central park, on 25 July 1923. It bears the inscription Margaret B. Cruickshank M.D. The beloved physician, faithful unto death.
Websites
Books
Footnotes
1. Book of New Zealand women, p 159-162
2. Ibid.
3. Kai Tiaki : the journal of the nurses of New Zealand, January 1919
4. Kai Tiaki : the journal of the nurses of New Zealand, April 1923
5. Book of New Zealand women, op. cit.; Beryl Hughes. Margaret Barnet Cruickshank– Biography from the Dictionary of New Zealand biography, Te Ara Encyclopaedia
6. Pryor, Ted, Rising of the phoenix: a tribute to the life and works of William Thomas Trethewey, sculptor of Christchurch, 2002, p 31
7. Ibid.