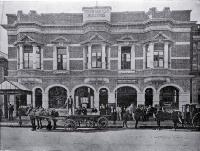 Frederick John Barlow, a Christchurch architect who opened his business in the city in 1893, designed the Machinery Hall and the Art Gallery buildings for the New Zealand International Exhibition of 1906-7. He was also the designer of some of the workers' cottages built in Sydenham in 1905. In 1900, he designed the Tonks Norton's Building in Hereford Street, at the time considered one of the most handsome buildings in New Zealand. Among his other designs around this period were the Dunlop Tyre Company office (1906), the Tepid Baths (1907) and the Rangiora Council Building (1907).
Barlow was born in Christchurch on 24 January 1868, the eldest son of John Barlow (d.1917), at that time a coach and cab proprietor, and his wife, Augusta Burleigh (d. 1924). The following years saw the birth of eight more brothers and a sister, but four baby brothers, including twins born in 1875, died before reaching their first birthdays. During these years John Barlow changed his profession several times. During the 1870s and early 1880s, he was the proprietor of the Papanui Hotel, although in 1879 he was recorded as a farmer in Papanui. By 1897, he was said to be an ironmonger with a business in Colombo Street.
In the period 1882-1886, Frederick Barlow trained as an architect under Alfred W. Simpson of Christchurch. After completing his articles, he moved to Victoria, Australia in order to gain more experience. He worked for two years with William Salway, and then with Phillip Teeby and W. Smith of Melbourne. In 1889, he set up a partnership with J.A. Laird in Geelong. Among the buildings designed by the firm in the town were the Dalgety and Company building and the Showgrounds and main grandstand. Despite his youth, Barlow was also appointed Head Instructor in Architecture and Building Construction at Gordon College in Geelong.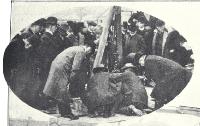 Barlow returned to Christchurch in 1893 and opened his office in Cashel Street. His architectural style included "elements of classicism handled with restraint and some individuality".1 His design for the Tepid Baths was characteristic, especially in his use of brick. He offered a "clearly outlined form punctuated by crisply detailed door and window openings rendered with cement trim"2. He became active in architectural organisations, including the Christchurch Architects' Association, of which he was vice-president in 1903. He was elected a fellow of the New Zealand Institute of Architects in 1905 and of the Royal Institute of British Architects in 1911, and he was also an associate of the Royal Victoria Institute of Architects.
Barlow became involved in municipal affairs, serving on the St. Albans Borough Council from 1899 until amalgamation with Christchurch City in 1903. Later he served on the Sumner Borough Council. He was also a successful sportsman, mainly in bowling. A foundation member of the Canterbury Bowling Club, he acted as secretary in its early years and served as president four times, in 1904, 1905, 1933, and 1934. He won all the club's competitions several times, and travelled to England as a member of a New Zealand bowling team. Barlow also owned race horses and was a keen motorist.
Barlow travelled extensively in the latter years of his life. He died on 10 July 1939 at his home at 5 Euston Street, Sumner. He was survived by his wife, Mabel Esther Barlow, whom he had married in Australia, but there were no children of the marriage. He is buried at Bromley Cemetery.
Footnotes
1. McEwan, A. "Forgotten architect's work", New Zealand Historic Places Trust, Nov. 1997, no. 66, pg. 41
2. McEwan, A. "Forgotten architect's work", New Zealand Historic Places Trust, Nov. 1997, no. 66, pg. 41
Sources
The cyclopedia of New Zealand : industrial, descriptive, historical, biographical facts, figures, illustrations, Vol. 3, pt. 2. pg. 284
McEwan, A. "Forgotten architect's work", New Zealand Historic Places Trust, Nov. 1997, no. 66, pg. 40-42
Obituary, The Press, 11 July 1939, p. 10
Related pages
Related photos