Hay's Ltd, "The Friendly Store where everything is different", was a well-known shop in Christchurch for fifty years. Hay's opened in Gloucester Street for the first time on Friday 13 December 1929.
The business expands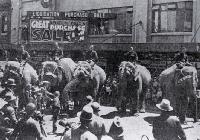 James L. Hay, known as Jim,was the founder of the store, and had a vision to establish a business that offered a friendly atmosphere. The store prospered, despite the Depression, helped in part by Hay's decision to offer profits back to customer's via a 'League' discount scheme.
The Hay's Famous Senior League was started on May 21, 1930 and was a cornerstone that helped the business to thrive. By 1950, 42,000 people were members of the league, with 21,000 people in the junior league.
The shop was slightly expanded on either side in 1935 and 1936. In 1938 the central Christchurch store expanded to have a frontage on Colombo Street, the city's main thoroughfare, and a branch store specialising in fashion goods opened in Greymouth.
The Christchurch store added an Armagh Street entrance (opposite Victoria Square) in 1942 after one half of the Rink Taxis building was purchased. Due to wartime restrictions little could be done in terms of renovations. The second half of the building was purchased in 1947 and expansions continued in 1949 (furniture and furnishings) and 1950 (refrigeration).
Innovation and entertainment
As the Senior and Junior League programme showed, Hay was an innovator and had a keen marketing eye. Circus elephants were enlisted on one occasion to drum up business, but at the heart of the operation was idealism.
Hay's Roof was the home of Aunt Haysl, and housed trick mirrors, and a children's playground with slides and entertainment of all sorts.
Hay's Ltd later became HayWrights and then Farmers in 1987, and Hay's Roof as such closed, though the roof remained open as a playground for children until the demolition of the old building ten years later.
The heritage of James Hay
James Hay was the father of city councillor and later Mayor Sir Hamish Hay.
The James Hay Theatre, part of the Christchurch Town Hall, was named after Hay, who was an active fundraiser for the building.
More information on Hay's Ltd
Edna Neville was a Hay's Ltd employee who ran the Hay's Junior League with its competitions, magazine, choir and other activities.
Our page on the local Christmas parades includes photographs of the Hay's parade.
A biography by Geoffrey W. Rice in the Dictionary of New Zealand Biography. Te Ara - the Encyclopedia of New Zealand. It details his war service and his career before starting Hay's, as well as his civic fundraising efforts.
Search our catalogue