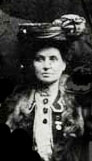 Mary Colborne-Veel was a well-known Christchurch poet who was a regular contributor to The Press newspaper and to the School Journal.
Miss Colborne-Veel was the second daughter of a former editor of The Press, Joseph Colborne-Veel (1830-1895) and his wife, Anne Maria Anstey (1840-1910).
A love of literature
Joseph Colborne-Veel, who was educated at Oxford University, had served as secretary to the North Canterbury Education Board and as headmaster of the Normal School, and he was largely responsible for his daughter's education. He instilled the love of English literature and landforms which infused Mary's delicate, lyrical poems, as well as the fluent and graceful1 style of her literary criticism, Shakespeare celebrations and adaptations into plays of English novels such as Cranford, which were performed to raise war funds.
Miss Colborne-Veel published a volume of poetry in 1894, The fairest of the angels, and other verse, and her poems appeared in many Australasian anthologies, as well as in newspapers and other periodicals. After her death, her friend and fellow poet, Jessie Mackay edited a collection of her work, entitled A small anthology (1924).
A reformer with a gently commanding personality

Despite chronically poor health, Miss Colborne-Veel was also active in many fields of philanthropic and social reform work. She was an official visitor to the Te Oranga Home for Delinquent Girls at Burnham and to women patients in Sunnyside Hospital. She and her sister Gertrude were deaconesses in all but garb2 in their work for St. Luke's Church and both were founding members of the Canterbury Women's Club, which opened rooms in the lounge of the Grand Theatre in Cathedral Square in 1913. According to her obituary, Mary's influence was felt in every aspect of club life and her gently commanding personality3 did much to create the "home" club atmosphere which made it so appealing to both girls and older women.
She was a member of the advisory committee for the School of Domestic Instruction over which Mrs Gard'ner presided. Miss Colborne-Veel combined all her activities with domestic responsibilities which included the care of an ailing mother and a frail sister.
The 1906 New Zealand International Exhibition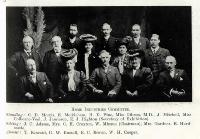 Miss Colborne-Veel was a member of the Home Industries Committee, one of the organising committees of the 1906 New Zealand International Exhibition. In the six weeks before the Exhibition, her mother was too ill to be left alone, and as the family was unable to find a girl to help with the nursing, Miss Colborne-Veel's Exhibition work was severely curtailed. After the exhibition opened, however, some assistance during the day was found so that Mary was free to take up her work again.
Mrs Colborne-Veel died in 1910, and eventually, ill-health forced both Mary and her sister, Gertrude, to retire to Sumner, where both women died after long illnesses. They are buried in Bromley Cemetery.
Footnotes
1. Obituary in Colborne-Veel, M. Poems, prose and letters : also obituaries for her, ca. 1886-1923. Arch 474
2. The late Miss Mary Colborne-Veel: a memoir, The Press, 23 February 1923, p. 10
3. Obituary in Colborne-Veel, M. Poems, prose and letters : also obituaries for her, ca. 1886-1923. Arch 474
Sources
Canterbury Women's Club Incorporated, 1913-1963 : Golden jubilee celebrations, October 18th, 19th and 20th.
Colborne-Veel, M. Poems, prose and letters : also obituaries for her, ca. 1886-1923. Arch 474
The cyclopedia of New Zealand : industrial, descriptive, historical, biographical facts, figures, illustrations, Vol. 3, pt. 2. p 375
"The late Miss Mary Colborne-Veel: a memoir", The Press, 23 February 1923, p 10