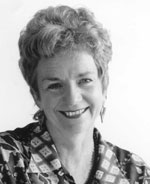 Name: Christine Johnston
Date of birth: 4 January 1950
Place of birth: Dunedin
Now living in: Dunedin
What is your favourite food?
Kiwifruit.
What was your most embarrassing moment?
I try to forget all my embarrassing moments.
How do you relax?
Read, walk the dog.
Who inspired you when you were little?
No-one.
What were you like at school?
Keen and bright, but a bad speller.
What was your favourite/most hated subject at school?
Writing/spelling.
What was the book you most loved as a child?
Tom's Midnight Garden by Philippa Pearce.
Which person from the past would you most like to meet?
Who is your favourite author/children's author?
I just enjoy whatever I'm reading at the time and I'm always keen to discover new 'favourites'.
Why did you want to be a writer?
I had lots of stories inside my head, wanting to get out.
Do you have a special place where you write your books?
I work in my study.
What's the best thing and worst thing about being a writer?
Creating something from scratch is the best thing. The worst thing is waiting for the publisher to say 'yes' or 'no'.
If you weren't a writer, what would you like to be?
A photographer.
What advice would you give to aspiring writers?
Just do it!
Read some books by Christine Johnston
More information about Christine Johnston
This interview is from 2002.