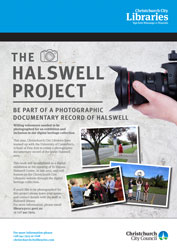 Willing volunteers needed to be photographed for an exhibition and inclusion in our digital heritage collection.
This year, Christchurch City Libraries have teamed up with the University of Canterbury, School of Fine Arts to create a photographic documentary record of the wider Halswell area. This work will be exhibited as a digital exhibition at the opening of Te Hāpua: Halswell Centre, in late 2015, and will feature on the Christchurch City Libraries website through the digital heritage collection.
If you'd like to be photographed for this project please leave your name and contact details with the staff at Halswell Library.
For more information, please email library@ccc.govt.nz or call 9417923.