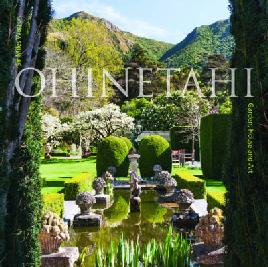 Ohinetahi stands at the head of Lyttelton Harbour. A notable house, believed to be the first design in New Zealand of the architect Benjamin Mountfort (1825-1898), it was built by Christopher Alderson Calvert (1811-1883) in 1851.
It is surrounded by one of New Zealand's most celebrated gardens.
For more information and images of Ohinetahi, view its listing on Gardens to visit and the Canterbury Horticultural Society.
Māori history of Ōhinetahi
The name "Ohinetahi" refers to the valley and bay (Governor's Bay) at the head of Lyttelton Harbour where the house and gardens are situated. Ōhinetahi translates in Māori as "The place of one daughter". After Ngai Tahu chief Te Rakiwhakaputa captured a stockaded Ngāti Mamoe pā in the valley, it was occupied by his son Manuhiri who had many sons but only one daughter, hence the name.
A house of change
Built in 1851, the house was at that time known as Rosemary Cottage. As time went on it changed and grew as different owners altered and extended the building.
At the time of the September 2010 earthquake the house was 2.5 storeys with the upper storey in sandstone. This collapsed during the quake and the house was severely damaged. Restoration work was undertaken by owner Sir Miles Warren and the ground floor was returned to its pre-quake state. The upper storey was replaced with a lightweight timber structure with a lower roofline.
Ohinetahi's garden
A garden was first made in 1865 by later owner Thomas Henry Potts (1824-1888), an eminent botanist and ornithologist, who planted a great variety of exotic trees and shrubs chosen on the advice of Kew Garden authorities. Many of these still stand on the perimeter of the garden. After he died in 1888, the garden was neglected until it consisted of little more than a lawn around the house.
The garden transformed
Sir Miles Warren began the present garden in 1977, assisted by his sister, Pauline Trengrove (a painter) and her husband John (an architect). Over a period of 19 years they transformed the remnants into one of New Zealand's most celebrated gardens, covering 1.25 hectares. The formal garden consists of a number of separate garden rooms of differing style and character arranged about two axes running east-west and north-south. Between the house and the western boundary is a ravine that has been made into a bush garden.
Large blocks of cut sandstone that were originally part of the house were reused on the grounds to form an open air amphitheatre.
Private home, public treasure
In November 2012 Sir Miles Warren donated Ohinetahi to the nation, creating a charitable trust to manage the property. Ohinetahi is open to the public for viewing between mid-September and the end of March.
Sources
Sir Miles presents Ohinetahi to the nation, Joelle Dally, The Press, Nov 05, 2012
One year on, Sally Blundell, Heritage New Zealand, Spring 2011
Second time around, Sally Blundell, Heritage New Zealand, Summer 2012
More information