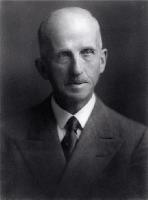 Brief biography of Robert McDougall, manager of Aulsebrooks Bakery in Christchurch, founder of the Christchurch Golf Club and benefactor of the McDougall Art Gallery. This page details his life and links to further resources.
Early life
Robert McDougall was born in Melbourne on 27th December 18601, and brought as a child to Christchurch in 1863. He was educated at Charles Cook's Private School and Christ's College.
Career
McDougall began his career as a junior clerk in the Colonial Bank of New Zealand, Christchurch, in 1875. For most of his working life he was, however, associated with the firm of Aulsebrooks.
Aulsebrooks bakery was established in 1863, by John Aulsebrook, on a Colombo Street site. In 1879 Robert McDougall's father, W.E. McDougall, bought in as partner and a new factory was built at the corner of Montreal and St Asaph Streets. After two years the partnership ceased, but in 1883 Aulsebrook approached McDougall again. W.E. McDougall declined further involvement, but bought an interest for his son. Until 1889, when John Aulsebrook moved to Sydney and sold out to Robert, Robert managed Lane's Flour Mill, on Mill Island in the Avon near the Hereford Street bridge, good preparation for his later association with Aulsebrooks 2.
Robert McDougall was a director of the Kaiapoi Woollen Manufacturing Company Ltd., and the Mutual Benefit Building Society. He was a foundation member and at one time president of the Canterbury Industrial Association, now the Canterbury Manufacturers' Association.
He was also patron or officer in many semi-public and philanthropic bodies in Christchurch, and was one of the founders of the Christchurch Golf Club, being also its president from 1911 to 1912, and again from 1924 to 1925. He was an early member of the Canterbury Rowing Club, and was interested in a number of other sports, particularly tennis, giving much support to the development of Wilding Park3.
Family life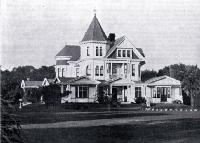 On 18 February 1897, at St Mary's Anglican Church Merivale, Robert married Malvina Mary Webb 4, a grand-daughter of John Jenkins Peacock. They had an eight-acre (3.23Ha) property in Papanui Road, where the house named Fitzroy was built for them between 1898-1890. McDougall Avenue was created and named when the property was subdivided after his death.
What kind of a man was he, this driving power behind the complex organisation he built up and led? He was dynamic enough to become a legend in his lifetime and to command respect more than twenty years after his death… [He was] an efficient man and a farsighted planner. By instinct (and practice) he was generous. And above all he was modest. 5
Apart from the family home in town, two holiday homes were enjoyed by the family for many years. The first was built in 1907 at 7 Clifton Terrace, Sumner, to a design by Hurst Seager. Later, in 1920, he bought Brookdale at Parnassus, where the family holidayed for the next forty years. Two years later the whole family travelled overseas: it was during this trip that he indulged his love of fine cars and brought back an FN, a Renault, and a Rolls Royce. At a time when it was unusual, he visited Japan. The extended family of brothers- and sisters-in law lived nearby and family gatherings were daily occurrences 6.
Interest in art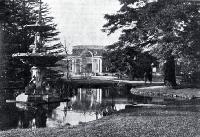 His particular interest was art, and the Robert McDougall Art Gallery in the Botanic Gardens is a lasting tribute to his public generosity.
One day his brother-in-law, Mr R H Webb, was in the office when the Rev. J K Archer, then Mayor of Christchurch, called to see Mr McDougall… After about a quarter of an hour Archer came bouncing out… but it wasn't till I read the paper next morning that I discovered he'd given the money — £26,000 — for the Robert McDougall Art Gallery… He didn't tell a soul about his gift. 7
Prizes for designs were offered to architects throughout the then British Empire, the winner being F.W. Armstrong, of London, and formerly of Gisborne. The Art Gallery was officially opened in June, 1932. McDougall also made gifts to many charitable institutions, and launched the appeal for Patriotic Funds for the first World War with a donation of £1000 8.
Death
When McDougall died in February 1942, he was survived by his wife, and three married daughters, Mesdames Marjorie Ferrier, Jean Bristed, and Nancy Seay. Inspired by their father's philanthropy, the three women later gifted the family home, Fitzroy, to the Nurse Maude Association. The building, renamed McDougall House, is still in use 9.
Sources
Related Links
Search our catalogue
Other links
Footnotes
1. Birth certificate, which also confirms spelling of second name
2. The Aulsebrooks story, 1863-1963. Christchurch Star, Wed 7 Aug 1963
3. Personal communication A. Moss, Feb 2002
4. Marriage certificate
5. The Aulsebrooks story, 1863-1963. Christchurch Star, Wed 7 Aug 1963
6. The Aulsebrooks story, 1863-1963. Christchurch Star, Wed 7 Aug 1963
7. The Aulsebrooks story, 1863-1963. Christchurch Star, Wed 7 Aug 1963
8. Personal communication A. Moss, Feb 2002
9. Personal communication A. Moss, Feb 2002