What have we to say against the governor, the shadow of the land will go to him but the substance will remain with us.
In 1840 the Chief Nopera Pana-kareao eloquently expressed his understanding of the Treaty to his people. Less than a year later, a disillusioned Panakareao reversed this statement.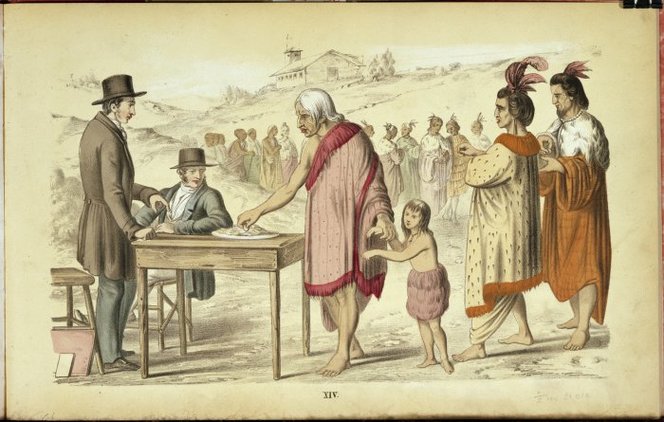 The Treaty recognised that Māori already had occupation of New Zealand. It records an agreement between Māori, represented by rangatira (chiefs) and the British Crown, represented by William Hobson, with Māori giving the Crown rights to govern in the interest of maintaining peace and order and to continue settling the country with British immigrants.
The Crown in return guaranteed Māori full protection of, and tribal authority over, their lands, fisheries, forests, villages, culture and treasures, and extended to Māori the full status and rights of British citizenship.
Differences in understanding
There are two versions of the Treaty – an English version and a Māori language version translated by Henry and Edward Williams.
The vast majority of rangatara signed the Māori version with only 39 signing the English.
There are several fundamental differences of meaning between the two texts, most notably concerning the understanding and translation of the terms:
Sovereignty
Kāwanatanga
Te tino rangatiratanga
Recommended reading
Next page: After the Treaty of Waitangi signings