Thomas Edmonds was born in Poplar, London, and arrived in Lyttelton with his wife Jane Elizabeth Edmonds in 1879 on the Waitangi. He began as a grocer on Ferry Road before developing his famous baking powder product 'Edmonds Sure to Rise' while Jane ran the store. The baking powder won a gold medal at the 1906 New Zealand International Exhibition and their products, including the Cookery Book, are still a staple in New Zealand kitchens today. Thomas was diagnosed with a heart condition and died on 3 June 1932. Thomas and Jane had eight children and two of their sons are buried in the same grave with them in the Linwood Cemetery.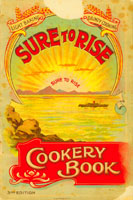 New ideas about spirituality, health, healing and psychology abounded in the late 19th century and Christchurch was not immune. Thomas Edmonds was a philanthropist, provided a high standard of working environment for his employees (including the famous factory gardens), supported theosophy, was interested in philosophy and astronomy and was a friend of Professor Alexander Bickerton.
The distinctive architecture of his factory in Ferry Road (now demolished) and the famous Sure to Rise sunray motif reflected his interest in the therapeutic qualities of the sun. He became interested in the Radiant Health movement and was involved in the foundation of the Christchurch Radiant Health Club whose objectives included: To study and practise Christian Psychology; To study and practise Diet; To study and practise Solar Plexus Breathing; To serve the sick in the community. The Radiant Hall (later the Repertory Theatre) on Kilmore Street was built initially for the club.
Edmonds contributed a number of other distinctive buildings to the city, including the Edmonds' Band Rotunda and shelter, presented on the 50th annniversary of their arrival in Christchurch, and the Clock Tower with telephone and letter box. He hoped his gifts would encourage others to make Christchurch a beautiful Garden City and this is also reflected in the gardens he established in the grounds of his factory. He was also a significant contributor of funds to build the Theosophical Society building on Cambridge Terrace.
Thomas Edmonds resources
Pick up a copy of one of our classic Edmonds cookbooks, first published in 1907.
Digitised illustrated booklet in the Architectural Heritage of Christchurch series.
Search our place names information for Edmonds' donations.
T. J. Edmonds and his wife Jane were buried in the Linwood cemetery.
Learn about the School of Radiant Living movement and its founder Dr Herbert Sutcliffe. From New Zealand History online.
From Oxford Reference. Use at a library or enter your library card & password / PIN.
Photographs in our collection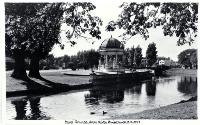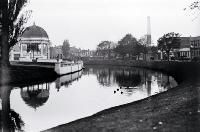 Edmonds Band Rotunda, viewed from Oxford Terrace [ca. 1930]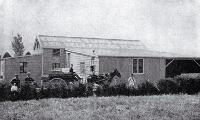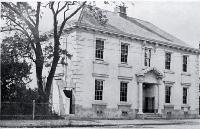 The Theosophical Hall, Cambridge Terrace, Christchurch [1926]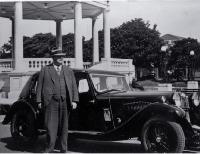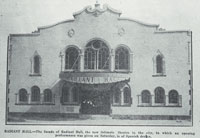 Radiant Hall: the facade of Radiant Hall, the new intimate theatre in the city in which an opening performance was given on Saturday, is of Spanish design. [1929]