Mānuka was the name of a large Ngāti Māmoe pā that stood at the foot of the hills not far from Tai Tapu.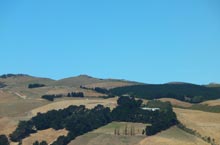 The pā was situated in a strong defensive position but this proved no hindrance to Ngāi Tahu chief Te Rakiwhakaputa who stormed and captured the pā during his rampage of the Whakaraupō area.
Canon James Stack in his 1894 map shows this pā site as located on the edges of swampland known as Te Uru Mānuka along the reaches of Tau-awa-a-Maka or the Halswell River and close to present day Holmes Road.
This location would place the pā close to ridge lines that rise up to the summit at Ōmawete (Coopers Knob) and over the other side down into Ōhinetahi (Governors Bay).
Sources