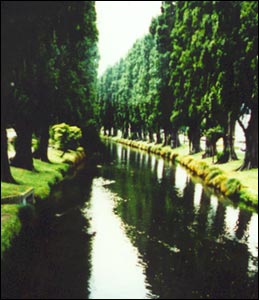 Ōtākaro meanders its way from a spring source in Avonhead through the city and out to sea via the estuary.
It was highly regarded as a mahinga kai by Waitaha, Ngāti Māmoe and Ngāi Tahu.
The Waitaha pā of Puari once nestled on its banks. In later years, Tautahi (the chief after whom our city takes its name) made kai gathering forays down Ōtākaro from Koukourarata on Horomaka (Banks Peninsula) to take advantage of the abundant bounty offered up by its waters.
Pātiki (flounder) were speared, eels (tuna), ducks, whitebait (inaka) and native trout were also caught.
Ōtākaro, meaning the place of a game, is so named after the children who played on the river's banks as the food gathering work was being done.
In Tautahi's time few Māori would have lived in the Ōtākaro area itself. Those that did were known to Māori living outside the region as Ō Roto Repo (swamp dwellers). Most people were seasonal visitors to Ōtākaro. Fish and birds were preserved for use over the winter months when fresh kai was in short supply.
Springs feeding into the river were used by tohunga for healing purposes. These were sited in the Ōrakipaoa (Fendalton) area in the Wairarapa and Waiwhetū streams.
The Canterbury Museum holds some important Māori taonga (treasured possessions) that have been recovered from Ōtākaro, including a canoe paddle made of mānuka.
Sources
Robert C. Lamb, From the Banks of the Avon: The Story of a River, AW Reed Ltd. 1981, p2
Te Maire Tau, Anake Goodall, David Palmer & Rakiihia Tau. Te Whakatau Kaupapa: Ngāi Tahu Resource Management Strategy for the Canterbury Region, Aoraki Press, 1990
W.A. Taylor, Lore and History of the South Island Māori, Bascands, Christchurch, NZ, 1952