Māori have been artists before that term even arrived in Aotearoa because the visual language makes up an important part of learning and identity. Stories of ancestors and places have been carved, woven and painted into whare and taonga all over Aotearoa in traditional Māori art forms.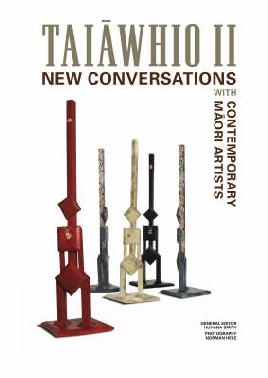 This tradition of art making has grown and adapted over time to reflect the way Māori artists see and experience the world.
Māori artists have worked as individuals but also as collectives, drawing on ideas of wānanga and whanaungatanga. They adopted new materials and techniques into their art practices which led to new ways of making and also exhibiting.
This page highlights established and up and coming contemporary Māori artists working in different media:
Painting/Waituhi
Contemporary Māori painters have explored a range of styles and subject matter in their work from abstraction and minimalism to the human form and landscapes. Some noteworthy contemporary Māori painters include:
Ralph Hotere (Te Aupōuri) - Arguably one of New Zealand's most important artists. Hotere's minimalist paintings are instantly recognisable with the distinctive use of black paint on found materials. Another aspect of Hotere's work is that he collaborated often with other artists and writers such as Bill Culbert, Bill Manhire and Hone Tuwhare.       

Audiotour of Hotere's work, Malady panels at Christchurch Art Gallery Te Puna o Waiwhetū (narrated by Sam Neill)
Artworks by Ralph Hotere at Auckland Art Gallery Toi o Tāmaki
Online biography of Ralph Hotere (Te Ara)

Robyn Kahukiwa (Ngāti Porou, Te Aitanga a Hauiti, Ngāti Konohi, Te Whanau a Ruataupare) - Kahukiwa's paintings really stand out in New Zealand's art collections, using bold colours and textured paint to share our stories of whanaunga and mythology. Her illustrations can also be found in many New Zealand children's books such as The Kuia and the Spider.       
Marilynn Webb (Ngā Puhi) - Webb is a printmaker who layers pastel and other painting techniques to create artworks that often feature the beauty and majesty of southern landscapes.        
Kura Te Waru Rewiri (Ngā Puhi, Ngāti Kahu, Ngāti Rangi, Ngāti Raukawa ki Kauwhata) - Te Waru Rewiri has a strong painting practice that draws on the traditions of carving. Her paint strokes carve out lines on the canvas, giving voice to the concerns around Māori women's sovereignty.       
Ayesha Green (Ngāi Tahu, Ngāti Kahungunu) - Green has a unique painting style that flattens the image by block colouring on large plywood boards which are suggestive of cartoon/caricature but firmly situated in whakapapa and its realities today.       
Sculpture/Tāraitanga
Working in 3 dimensions has always been a large aspect of Māori art. The materials that contemporary Māori artists use are wide ranging from clay to polystyrene, harakeke and even tarpaulin.
Ngā Kaihanga Uku - Collective of Māori clay workers that came together in the 1980s to not only work together but to also support the developing use of uku (clay) in Māori art. The collective began under the leadership of Baye Riddell and Manos Nathan, with other founding members being Paerau Corneal, Colleen Waata Urlich and Wi Taepa. They have now established themselves with younger members joining often. As a collective they have exhibited across Aotearoa and the world.       
Peter Robinson (Ngāi Tahu) - Robinson has a large practice that explores ideas such as identity through the installation of manipulated materials, painting, or even intricate sculpture. His career spans 30 years both nationally and internationally. He was one of the first artists to represent Aotearoa at the Venice Biennale in 2001 with Jaqueline Fraser. He also won the Walters Prize in 2008, the top art prize in Aotearoa.       
Michael Parekōwhai (Ngāti Whakaronga, Ngā Ariki) - Parekowhai's grand sculptures that explore contemporary Māori experiences are like bold one line statements, philosophical quotes, or punchlines to a joke. They are hard hitting and intriguing whether the viewer knows what is going on or not. Parekōwhai represented Aotearoa at the Venice Biennale in 2011 and has exhibited internationally many times.        
Ana Iti (Te Rarawa) - Iti's work employs language and text in a sculptural and experiential form that poetically recounts history and how colonial architecture has influenced Māori identity. Often bold vinyl text that Iti has written is stuck to the side of buildings or the walls of galleries alongside other material, often found, that supports the exhibition. Iti is a widely exhibited artist with momentum building as she has continues working and telling Māori stories.       
Mata Aho Collective - A collective made up of four wāhine Māori who come together to make large scale, collaborative fibre based work. Mata Aho is Sarah Hudson (Ngāti Awa, Ngāi Tūhoe), Terri Te Tau (Rangitāne ki Wairarapa), Bridget Reweti (Ngāti Ranginui, Ngāi Te Rangi) and Erena Baker (Te Atiawa ki Whakarongotai, Ngāti Toa Rangatira). Their work uses everyday materials to comment on the complexity of Māori lives.       
Arapeta Ashton (Ngāti Mahuta, Ngāti Maniapoto, Ngāti Whanaunga, Ngāti Porou and Muriwhenua) - Ashton's work spans mediums such as performance, moving image and weaving, exploring ideas of identity and Māori knowledge systems. Having a foundation in Māori knowledge means the work goes beyond the physical objects that Ashton makes, as the exhibition is supported by making workshops led by Ashton, or films that give the work more depth.        
Māia Abraham (Ngāi Te Rangi, Ngāi Tūhoe, Ngā Rauru) - Abraham's art and curatorial practice explores kaupapa Māori ways of thinking and working; asking questions such as how can mātauranga Māori be applied to an arts practice? Or perhaps how can mātauranga Māori enhance the ways we might experience art?        
Photography/Hopu whakaahua
Photography can capture a moment in history for our reflection, or reveal our contemporary realities something found in the work of these contemporary Māori artists:
John Miller (Ngā Puhi) - Miller is a photographer who has inserted his camera and therefore himself, in front of many historic moments in the history of Aotearoa such as the Māori Land March, Bastion Point, Springbok Tour and the Anti-Nuclear Campaign. His photographs are a lasting memory of these stories through the eyes of this artist.       
Fiona Pardington (Ngāi Tahu, Kāti Māmoe and Ngāti Kahungunu) - Photography is a medium that has the power to make places and objects stagnant and emotionless, however Pardington's work, with its spiritual and slightly spooky undertones, layer meaning on an image, telling stories of the unseen within it. Having strong links to museums and archives, her work often gives voice and life to objects otherwise hidden away and out of site. Her work has been exhibited extensively across Aotearoa and the world.       
Chevron Hassett (Ngāti Porou, Ngāti Rongomaiwahine, Ngāti Kahungunu, Pākeha) - Photography is  medium through which Hassett documents story and narrative. His photos, while mimicking those found within wharenui all over Aotearoa that celebrate the people of those areas, record new stories and connect back to whānau through portraiture. His photography is quite dramatic but very powerful in its intentions.       
Digital arts/Whakaahua matihiko
Māori have always been quick to adapt and learn new things when needed, this is no different when it comes to technology. These contemporary Māori artists use a range of technology to continue telling these stories:
Lisa Reihana (Ngā Puhi, Ngāti Hine, Ngāi Tū) - Reihana is a multimedia artist whose work employs many mediums like film making, costume design, sound, animation and photography to tell stories. Her work sensitively gives life and drama to Māori stories, both current and historical. Reihana has been working as an artists since the 90s and has an impressive exhibition history. In 2017, Reihana represented Aotearoa at the Venice Biennale with a large scale, panoramic video called in Pursuit of Venus, which uniquely re-examines the colonisation and Cook's voyages in the Pacific.       
Nathan Pohio (Waitaha, Ngāti Māmoe, Ngāi Tahu – Ngāi Tūāhuriri) - Pohio is an important Aotearoa artist whose work is well recognised around the world. Pohio is an interdisciplinary artist using mediums like film and photography to investigate the complexities of whakapapa. His works and exhibitions often have many layers of connection woven in between the artist, the work and the gallery itself which essentially gives the work new context.       
Jewellery/Taonga whakapaipai
Adornment practices are very important in Te Ao Māori and these contemporary Māori artists are continuing to create taonga in innovative ways,
Areta Wilkinson (Ngāti Irakehu, Te Hapū o Ngāti Wheke, Ngāi Tūāhuriri) - Wilkinson has a jewellery practice that makes overtly clear the relationship between Māori adornment values and the personal. She explores the impact and development of artwork through a collective and collaborative process that extends our understanding of the traditional form of jewellery. Her work also features in Tūranga, a collaborative work with artist Ranui Ngarimu called Rau Whakapapa is installed on Tuakiri | Identity, Level 2.       
Neke Moa (Ngāti Kahungunu, Ngāti Porou, Kai Tahu, Tūwharetoa) – Neke Moa uses natural and found materials such as shells and nylon to make her jewellery. They reflect how Māori adornment practices are connected with other such practices from across the Pacific. An exhibition of Neke Moa's work at The Dowse Art Museum.Artist bio and work on the Masterworks Gallery website.       
Lewis Tamihana Gardiner (Te Arawa, Ngāti Awa, Whānau-a-Apanui, Ngāi Tahu) – Lewis is one of Aotearoa's top pounamu artists with his uniquely intricate and innovative designs. He completed a Māori Craft and Design course at Waiariki Institute of Technology in Rotorua in 1994. He has exhibited both in Aotearoa and around the world sharing his craft.       

Artist bio on the Spirit Wrestler Gallery website in Vancouver, Canada.
Design/Kaiwhakatauira
The following contemporary Māori artists show the flexibility that Māori visual culture has when applied to newer technology. Design is everywhere and these artists are bring it with a Māori flavour: 
Morgan Mathews-Hale (Ngāti Irakehu, Ngāti Mako) - Mathews-Hale is a local artist and designer who incorporates new materials and ways of designing into her work while maintaining the traditional knowledge and heritage of Māori art forms. Her work is bold and colourful as it wraps itself around its host building, or canvas, telling the stories of these places and people. Mathews-Hale's work can be found both inside and on the exterior of Tūranga, in the brightly coloured lift shafts that depict various native birds, as well as Tūhura which is the design on the west facing wall (done in collaboration with artist Riki Manuel).       
Johnson Witehira (Tamahaki (Ngāti Hinekura), Ngā Puhi (Ngai-tū-te-auru), Ngāti Haua and New Zealand European) – Johnson is an artist and designer who imagines how Māori approaches and imagery could be applied to mediums like text, wallpaper and light installation. Johnson Witehira's own website that has an archive of his work.       
Fashion/Kākahu 
Māori fashion designers have always been innovators, creating garments to be worn in all situations. Their work not only applies imagery that comes from a Māori experience but they also construct and implement Māori design practices into their processes.
Kiri Nathan (Ngā Puhi, Tainui) – Kiri Nathan is a fashion designer producing various high quality garments that reflect her culture and country. Items are all handmade, in tribute to the craftsmanship of traditionally korowai and kākahu (Māori garments) as well as recognising the status of Māori fashion. Her label has been worn by and gifted to many high profile people from around the world such as Jacinda Ardern, Mariah Carey, Beyonce and Demi Lovato.        
Adrienne Whitewood (Rongowhakaata) – Adrienne is a fashion designer whose designs are uniquely embellished with Māori imagery making for stand out garments. She studied textiles at Auckland University of Technology and opened her first store in 2013, Ahu Boutique in Rotorua. Adrienne Whitewood's website with shop and information about her clothing.       
Shona Tawhiao (Ngāi Te Rangi) – Tawhiao began her journey into fashion as a weaver after attending Unitec and learning skills in traditional Māori weaving. From then her style and art has grown, taking inspiration from all forms of Māori art and raranga. Her practice has seen her work and design across many industries from film sets to museums, fashion weeks and art galleries. Shona Tawhiao's bio at Kura Gallery       
Glossary 

Whare – House
Taonga – Treasured objects
Aotearoa – New Zealand
Wānanga – Meeting
Whanaungatanga/Whanaunga – To be in relation to others/family structure
Harakeke – New Zealand flax
Uku – Clay
Wāhine – Women
Tāmaki Makau Rau – Auckland
Ōtepoti – Dunedin
Kaupapa Māori – A Māori approach
Mātauranga Māori – Māori knowledge system
Wharenui – Ancestral meeting house
Whānau – Family
Te Ao Māori – Māori world
Korowai – Cloak
Kākahu – Clothing
Raranga – To weave
Related information
In the catalogue