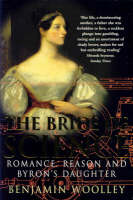 Today is Ada Lovelace Day. Celebrated on the second Tuesday in October Ada Lovelace Day is a day for celebrating the achievements of women in science, technology, engineering and science.
But who was Ada Lovelace?
Born in 1815, Ada was the daughter of Lord Byron and his wife Annabella Milebanke. As a child she was fascinated with machines and this was fostered by the education she received, which for the time was rather unorthodox, with its emphasis on mathematics, logic and science.
Through her friendship with Charles Babbage she became intimately familiar with the earliest clockwork and punchcard "computing" devices. In 1842 she contributed to an article about Babbage's latest machine or "Analytical Engine". Part of her contribution to the article were several "computer programs". This is why she is often described as "the first computer programmer". She is also credited with seeing the possibilities of computing, greater even than Babbage, who saw his machine as an advanced number-cruncher, where Lovelace imagined more creative possible outputs -
Supposing, for instance, that the fundamental relations of pitched sounds in the science of harmony and of musical composition were susceptible of such expression and adaptations, the engine might compose elaborate and scientific pieces of music of any degree of complexity or extent.
When Alan Turing undertook his work that led to modern computers, it was Ada Lovelace's notes that informed his work.
As many legends do Lovelace died young, at just 36 years of age, with only half a life's worth of genius lived.
Today, Ada Lovelace Day is an opportunity to honour and celebrate the scientific achievements of women and to encourage the women technologists, mathematicians and scientists of the future.
If you know an inquisitive, tech/maths/science-obsessed girl, why not introduce her to one of the following titles?
Or consider nudging someone you know along to our Minecraft Club for Girls or Girl Zone computing and tech skills course.
More recommended reading
Our previous Ada Lovelace Day posts