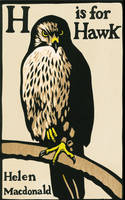 H is for Hawk by Helen Macdonald has being doing the business - literary awards, bestseller lists, and LOTS of reader love.
We asked her four quick questions ahead of her visit to Christchurch next Tuesday 12 May, as part of WORD Christchurch's Autumn Season (get your tickets now!)
She will also be at the Auckland Writers Festival and the Dunedin Writers and Readers Festival.
What are you looking forward to doing in Christchurch?
This is my first time in New Zealand, so I'll probably behave like an overexcited small child rushing around trying to see everything. I'm delighted to have the opportunity to appear with Steve Braunias at the evening event, and can't wait to meet people and talk with them afterwards. But naturally I want to see the city too. Visit the museum, walk the streets. And of course, there're the birds! I'm a total bird geek, so I'll be bringing my field guide, and if there's time I'll probably go off to a local forest or reserve and have a wander about with my binoculars, see what I can see.
What do you think about libraries?
They're so important! So many are closing in the UK and it's a very depressing state of affairs. I live near Cambridge and am lucky to have access to one of the great research libraries of the world. The library in my local town is very different: packed with novels, dvds, audiobooks, people piecing together jigsaws on tables, children sitting and reading on mats, and noticeboards full of local events. It's a proper community hub, and I love it.
What would be your "desert island book"?
The Complete Works of Shakespeare. Not an original choice, but, you know. It has to be.
Share a surprising fact about yourself.
I'm incredibly allergic to mammals. Pretty much all of them: dogs, cats, foxes, deer, even rabbits and hares. They're my kryptonite. Horses are the worst. I live near Newmarket, the home of British horseracing, and quite often I'll start sneezing uncontrollably in the supermarket because some jockey or other has walked past. I'd have been a very sickly person indeed if we still used horses as regular transport!

More about Helen Macdonald
WORD Christchurch recommends: