Ever found yourself asking "What will get my younger reader hooked on reading? Here's a few key tips from librarians:
Graphic novels (or comics) are legit
They actually use more of your brain than just reading words alone, because you're deciphering the messages from the words and the pictures together - so don't tell me they're not real reading, ok!
Audio books are also great
If the reading isn't for school and you just want to foster a love of reading - include some audio books! Kids don't need to be challenged all the time. With an audio book, a kid can get the joy of the story and use their imagination, without the possible struggle or brain strain of reading
Over-size fiction = amazing
Ask a librarian where they're stored at your local library. They're kind of a cross between a picture book and a chapter book. Sometimes they don't have many words at all, but the meaning is really deep. Otherwise, just pick up a great picture book!
Be the change
Are you reading yourself? Do you read to them? Also, start to think about reading being fun and model that in how you react to what they choose (or don't choose) to read (that Minecraft book is reading too).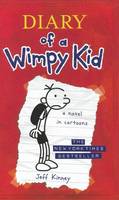 When was the last time you read a kids' book yourself? Here's a fantastic recommendation: the Diary of a Wimpy Kid series by Jeff Kinney!
Stay tuned to hear more about the author Jeff Kinney - he is talking in Christchurch tomorrow, brought to you by WORD Christchurch and Penguin Books NZ in a sold-out event. We will be reporting back!
First time in Shanghai! Thanks to everyone at the Shanghai American School for the great welcome. pic.twitter.com/DBiatAz7yb

— Jeff Kinney (@wimpykid) April 27, 2018