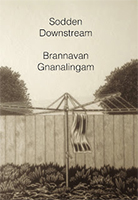 We are asking quick questions of writers and thinkers coming to the WORD Christchurch Festival 2018 (Wednesday 29 August to Sunday 2 September).
Brannavan Gnanalingam is a Wellington writer who has published five novels through Lawrence & Gibson. His latest, Sodden Downstream (2017), was shortlisted for the Acorn Foundation Prize at the Ockham New Zealand Book Awards.
What are you looking forward to doing in Christchurch?
Catching up with Christchurch friends, seeing some amazing writers, and hopefully spinning some yarns
What do you think about libraries?
Libraries are the reason why I'm a writer. My Mum would take me to the various Hutt Libraries when I was a child and sit there and wait while I read books (I hadn't fully appreciated I could take books home). They are so so crucial. They're also a great way for people to read my books, hint hint.
What would be your desert island book?
Can I cheat and say Balzac's La Comédie Humaine. They're mostly all interrelated so I feel like it's an ok bending of the rules. I'm halfway there and I love them but I'd love to have the time to read the remaining 50 books.
Share a surprising fact about yourself.
I was once robbed by a gang of old ladies in Kazakhstan. They also robbed my friend Gareth, but he was trying to hold onto his money, which he did... until one bit him and drew blood so he let go. We lost about $20 all up.
Brannavan Gnanalingam's sessions at WORD Christchurch Festival 2018
Motherhood Saturday 1 September 11.30am SOLD OUT
The politics of fiction Saturday 1 September 4pm
Explosive Archaeology Sunday 2 September 10am