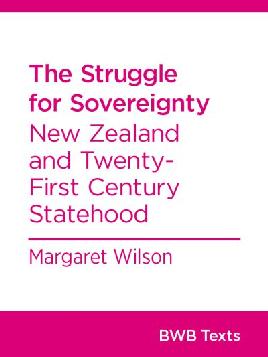 Margaret Wilson is coming to Christchurch on Sunday 30 August to speak on The Struggle for Sovererignty. This event is part of the Shifting Points of View - WORD Christchurch at the Christchurch Arts Festival. Margaret is Professor of Law and Public Policy at the University of Waikato, and she has been an MP and Speaker of Parliament. She will be in conversation with Dr Bronwyn Hayward, author and political scientist at the University of Canterbury. A podcast of this event was recorded.
This session is timely and relevant:
In the era of public choice and free markets, and when widespread public protest against global treaties such as the Trans Pacific Partnership Agreement is having little effect, does the New Zealand state still have the best interests of its individual citizens at heart? Margaret Wilson argues that the shift to a neo-liberal public policy framework has profoundly affected the country's sovereignty and that New Zealanders must continue to engage in the struggle to retain it for the sake of individual and community wellbeing.
Thanks to Margaret for answering our quick questions.
What are you looking forward to doing in Christchurch?
I'm looking forward to meeting people in Christchurch who share my values.
What do you think about libraries?
Libraries are essential for a democratic community - they provide pleasure, knowledge and well being for a community. (My sister is a librarian!)
What would be your "desert island book"?
I would take the bible and the Koran to try understand why religion is so important to so many people.
Share a surprising fact about yourself.
If I had the time and money I would tour the world watching cricket.