This is a reference collection of New Zealand children's and young adult books from the nineteenth century to the present day named in honour of the New Zealand author and former Christchurch City Libraries' Children's Librarian, Margaret Mahy.
Although not comprehensive, it contains a copy of most New Zealand children's books (excluding 'readers') published in the last two decades, as well as many older titles from the turn of the century through to the 1960s and 70s.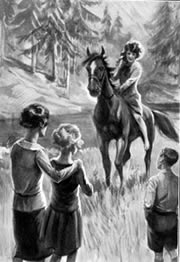 With the increasing interest in and study of New Zealand children's books the collection is now used by a wide variety of people, from children completing school projects to adults studying for the National Diploma in Children's Literature.
Included in the collection is Six Little New Zealanders and its sequel Uncles Three by Christchurch writer, Esther Glen. The books were first published in 1917 and 1926 respectively, and are still quite readable.
Betty Gilderdale in her landmark study of New Zealand children's literature, A sea change, comments that Esther Glen clearly intended to portray children as they were, lively, often thoughtless, but usually well-intentioned, examples neither of excellence nor yet of viciousness.
New Zealand's most prestigious award for children's literature is named after Esther Glen so it is particularly fitting that the collection itself honours one of this country's leading writers, Margaret Mahy, a former Children's Librarian at the Christchurch City Libraries, and six times winner of the Esther Glen Award.