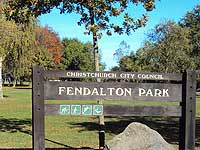 Fendalton Park is a Christchurch City Council sports park of five hectares located at the north end of Fendalton Road in Christchurch. It was opened in the late 1930s.
Proposal for a park in Fendalton
In 1927 the Waimairi County Council proposed developing a park in Fendalton funded by a special loan levied from Fendalton ratepayers. The council examined various sites but none was large enough to accommodate the desired children's playground, cricket field, bowling and croquet greens. The owners of land in Webb's Road (later Ilam Road) offered a site but the council did not make any purchase.
In 1929, the council considered buying Coldstream Lodge, the property of Mabel Martha Duncan. The land, covering more than 21 acres (8.5ha), had frontages on Hamilton Avenue and Ilam and Creyke Roads. Mrs Duncan suggested a purchase price of £8500. There was lively discussion at a public meeting but the sale did not go ahead. Mrs Duncan was declared bankrupt in 1935 and died the following year.
Quick links
Local History files, including:
Public Places in and around Christchurch
Fendalton Domain Board
A public meeting held on 23 November 1933 at the St Barnabas schoolroom in Clyde Road agreed to establish a Fendalton Domain Board within the Waimairi County. James Mawson Stewart, Albert Raymond (Ray) Blank, Arthur Hastings Bridge, Herbert Clarence Hurst, Archibald Albany McLachlan, Walter William Dunkley and Leonard Joseph Wilkins were elected to the board, which held its first meeting on 6 February 1934.
Stewart was elected chairman and members decided to advertise for written offers from Fendalton land-owners willing to sell 5 to 15 acres (2 to 6ha) suitable for a park. It was to be laid out as to appeal to people of all ages – children, young people and the aged. The headmaster of Fendalton School Ray Blank suggested, amid laughter, that it would be a good idea to start a golf course there for people of all ages.
Site chosen
Various offers were received:
the property of Kate Gerard (1854?-1934) in Fendalton Road — 7.5 acres (3.03ha);
the property of Mrs Chas. Bell (Charlotte May Bell, d. 1956) in Clyde Road, to be combined with the property of Frederick George Chick (1888-1974) at 40 Burnside Road, making an area of 11 acres (4.45ha).
The actual site of Mrs Bell's property has not been determined. In the 1935 Riccarton electoral roll, Charles Bell and his wife, Charlotte, are listed as living at 116 Glandovey Road. Mrs Bell may also have owned property on the corner of Burnside and Clyde Roads.
At a meeting held on 21 June 1934, the Board decided that the Bell and Chick properties would be accepted. It called a public meeting for 21 June so ratepayers could be notified of this decision. However, this meeting recommended that the board select the smaller site — part of Miss Gerard's estate — mainly because it was available at less than the valuer's figure.
Further meetings on 9 August and 21 August 1934 recommended that the decision of the Board to acquire the Bell and Chick properties be rescinded and that the Board instead purchase Miss Gerard's property for £3250. A poll of ratepayers taken on 14 March 1935 authorised the Waimairi County Council to raise a loan to buy the property. Turnout was light — Mawson Stewart's explanation was that polling day was near to rate-paying day and residents would not have been keen to authorise another loan.
Development
The new site needed considerable work before it could become a park. Dangerous and dying trees were removed and the whole area was ploughed and grassed. A large area was tile-drained, the open ditch running across the park was filled in by the laying of concrete pipes, and swings and see-saws for a children's playground were built. An asphalt path, running from Fendalton Road along the eastern boundary, was laid down, and a pedestrian bridge built across the Waimairi Stream at Puriri Street. Shrubs and trees were planted and seats purchased.
A new board was elected in 1941 at a public meeting of ratepayers. Members were: Arthur Hastings Bridge, Francis Joseph Shanks, Leolin Tracy Kiver Allison (Chairman), James Douglas Hutchison, Samuel James Moore, Richard Strachan De Renzy Harman and James Mawson Stewart.
Extending the park
On 8 May 1944, a public meeting of 60 people approved the proposal of the Fendalton Domain Board for the purchase of four acres of land adjoining Fendalton Park. This was the rear portion of the property at 173 Fendalton Road of Annie Gerard (1862?-1944), sister of Kate. (She lived where Willowbrook Place, off Fendalton Road, was later formed). This proposal was carried unanimously and the Board bought the land for £1050.
Public facilities
It was at this meeting that the decision to form the Fendalton Bowling Club was made. The club was allotted space in the new area of the park and was opened in November 1945 with a membership of 100.
In March 1946, public conveniences next to the children's playground were completed. The Fendalton Plunket rooms, designed by Richard Strachan De Renzy Harman, were opened in Fendalton Park on 3 July 1948.
With local government amalgamation in 1989, Waimairi County was absorbed into Christchurch City. Early in the 21st century, the Christchurch City Council suggested rebuilding public toilets in the park and extending the playground, but bowed to pressure from local residents. Accordingly, these developments did not go ahead.
Bibliography
General news, The Press, 21 July 1925, p 8
Fendalton Park, The Press, 13 January 1927, p 8
Recreation area, The Press, 5 October 1928, p 15
General news, The Press, 22 January 1929, p 5
Park wanted, The Press, 11 July 1929, p 2
Proposed new park, The Press, 26 October 1929, p 9
Land for park, The Press, 1 November 1929, p 13
A Fendalton park, The Press, 2 November 1929, p 11
Park for Fendalton, The Press, 23 November 1929, p 17
Park for Fendalton, The Press, 13 December 1929, p 14
Fendalton Burgesses' Association, The Press, 18 January 1930, p 11
A domain for Fendalton, The Press, 24 November 1933, p 10
A new golf course, The Press, 7 February 1934, p 8
A Fendalton domain, The Press, 7 February 1934, p 16
Proposed park in Fendalton, The Press, 14 June 1934, p 10
Park site at Fendalton, The Press, 22 June 1934, p 12
A domain for Fendalton, The Press, 10 August 1934, p 16
Fendalton Park, The Press, 23 August 1934, p 8
Fendalton Park, The Press, 25 January 1935, p 18
Fendalton Park poll, The Press, 15 March 1935, p 10
Fendalton Park, The Press, 29 March 1935, p 10
The Fendalton Domain, The Press, 1 July 1936, p 5
Fendalton Park, The Press, 9 May 1944, p 3
Christchurch plans new bowling greens, Auckland Star, 13 January 1945, p 3
Plunket Rooms at Fendalton, The Press, 5 July 1948, p 2
Obituary: Mr. J. Mawson Stewart, The Press, 30 June 1949, p 3
Fendalton Domain Board, The Press, 31 August 1954, p 10
Fendalton Park records and history, Christchurch, CH 357-151, held at Christchurch City Council archives.