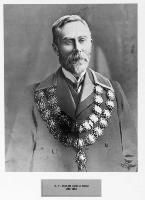 Born in London, Henry Francis Wigram emigrated to Christchurch in 1883.
In 1885 he returned to England to marry Agnes Sullivan and in 1886 he purchased the Heathcote maltworks and brickworks owned by George Stead. His brother William was his business partner, and they met with success – Henry went on to found the Canterbury Seed Company (1887), a nail factory, a pipeworks and a second brickworks.
See also
Public life
Henry Wigram's skills led to him being asked to co-ordinate celebrations for the provincial jubilee celebrations of 1900. Such civic duties must have held some appeal for Wigram, as he was also a commissioner for the visit of the Duke and Duchess of Cornwall and York in 1901. The following year he was nominated and elected unopposed for the Christchurch mayoralty. Whilst he retained a number of commercial directorships, including the Lyttelton Times, and was president of the Canterbury Chamber of Commerce (1911-13), his career of public service would last three decades.
Local and national government roles
Officially taking office in April 1903, Wigram turned his attention to the fragmented public transport network of Christchurch – routes to major parts of the city were controlled by no less than 11 local authorities. Eventually Sydenham, Linwood and St Albans almagamated with the city to form greater Christchurch. He was also elected to the Tramways Board, and by 1905 Christchurch had a series of electric trams running throughout the city.
Wigram became a member of the Legislative Council in June 1903 – this was New Zealand's upper house of Parliament, which existed until 1951. The council refined and amended bills passed by the House of Representatives, and its members were appointed rather than elected. Wigram resigned in 1920.
Aviation
After a trip to England in 1908, Wigram began advocating that the New Zealand Government keep up with international trends in aviation. After another trip to England in 1913, Wigram suggested the establishment of a state-backed flying school. When his attempt was unsuccessful, he, together with a number of other directors, established a facility at Sockburn known as the Canterbury (NZ) Aviation Company. The private school trained pilots for war via the Royal Flying Corps certificate, and promoted aviation for defence and commerce. It opened its doors on September 20, 1916. Read more about the airbase, which was renamed Wigram in his honour.
Wigram also helped to found the Canterbury Aero Club, was patron of the New Zealand Aero Club and was knighted in 1926 for his services to aviation. He died at his 1 Park Terrace home on May 6, 1934. He was survived by his wife; the couple had no children.
Agnes Lady Wigram, who like her husband played an active part in public life, succeeded him as patron of the Canterbury Aero Club, and in 1949 gifted the Lady Wigram Trophy for motor racing at the airbase. She died in 1957. The trophy is still contested.