Our Mobile Library service has resumed with additional measures in place to help keep borrowers safe:
To allow for social distancing, only one person will be on the van at a time.
We'll have a crate for returns outside.
We require contact tracing sign in and mask wearing when using our service.
We look forward to welcoming you back to the Mobile Library.
Day
Starts
Ends
Stop
Monday
10am
10:30am
Maurice Carter Courts, Dundee Place, Spreydon, Christchurch 8024
Monday
10:45am
11:15am
Torrens Road, Middleton, Christchurch 8024

, opens a new window

Monday
11:45am
12:15pm
Silverstream Retirement Village, 488 Greers Road, Northcote, Christchurch 8052
Monday
1:30pm
2pm
Russley Village, 73 Roydvale Avenue, Burnside, Christchurch 8053
Monday
2:30pm
3:30pm
Avonhead Mall, Merrin Street, Christchurch 8042
Monday
3:45pm
4:15pm
Fletcher Place, off Bowen Street, Upper Riccarton, Christchurch 8041
Tuesday
12:30pm
1:15pm
Cashmere View Retirement Village, 49 Cashmere View Street, Somerfield, Christchurch 8024
Tuesday
2:45pm
4pm
Mount Pleasant School, 82 Major Hornbrook Road, Christchurch 8081
Wednesday
12.15pm
12.45pm
Rārākau: Riccarton Centre, 199 Clarence Street, Christchurch 8011 carpark
Wednesday
1.15pm
1:45pm
Streamside Courts, 5 Streamside Court, Woolston, Christchurch 8062
Wednesday
2pm
2:30pm
Linrose Retirement Village, 472 Linwood Ave, Bromley, Christchurch 8062
Thursday
10:45am
11:15am
Concord Place, 211 Mairehau Road, Burwood, Christchurch 8083
Thursday
12:30pm
1:45pm
New World Car Park, 2 Mounter Avenue, Northwood, Christchurch 8051
Thursday
2.15pm
3pm
Diana Isaac Retirement Village, 1 Lady Isaac Way, Mairehau, Christchurch 8052
Thursday
3.15pm
4pm
341 Lower Styx Road, Spencerville
Friday
10am
11.15am
Alpine View Lifestyle Village, 448 Prestons Rd, Parklands, Christchurch 8011
Friday
11.30am
12noon
Burlington Village, 171 Prestons Road, Redwood, Christchurch 8051
Friday
1.30pm
2.15pm
Nazareth House, 220 Brougham Street, Sydenham, Christchurch 8023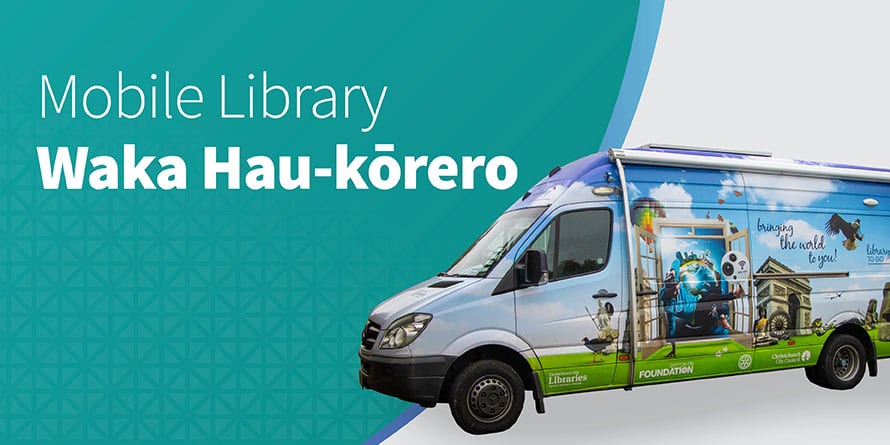 Library van in the community
You might also see a library van at community events, hubs, and markets. Check our calendar to find out where and when.
CUS4260 Mobile library - Timetable (A4 folded to A5) WEB