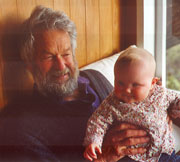 Name: Alan Bagnall
Date of birth: 28 December 1940
Place of birth: Lower Hutt Hospital
Now living in: Mahina Bay
What is your favourite food?
Bacon, liver and tomatoes fried together in a slush. Fresh apples. Egg sandwiches.
Do you have a nickname and if so what is it?
Baggy.
What was your most embarrassing moment?
This will remain a secret.
How do you relax?
Bushwalking and gardening and riding in trains.
Who inspired you when you were little?
My grandfather.
What were you like at school?
Shy.
What was your favourite/most hated subject at school?
Art and craft things were fun, and dancing was embarrassing.
What was the book you most loved as a child?
Treasure Island, by Robert Louis Stevenson
Which person from the past would you most like to meet?
One of those anonymous parents who made up nursery rhymes about 1000 years ago!
Who is your favourite author/children's author?
This changes all the time!
Children's author/illustrator - I most admire Ezra Jack Keats.
Barbara Kingsolver is my current adult favourite - she could also be enjoyed by young adults.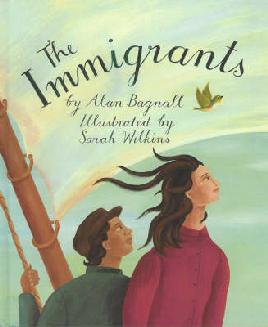 Why did you want to be a writer?
To entertain classes I was teaching.
Do you have a special place where you write your books?
Usually at school when all the children are writing too.
What's the best thing and worst thing about being a writer?
When it comes to sharing writing, the best thing is when others like it and the worst when they think it's rubbish!
If you weren't a writer, what would you like to be?
Plumber (I do help plumbers sometimes on drainage jobs).
What advice would you give to aspiring writers?
Write for fun and to share with your friends - the best writing isn't always appreciated by publishers because publishers are looking for stuff to sell. The best things in life don't have a market value.
Read a poem by Alan Bagnall
Read some books by Alan Bagnall
More information about Alan Bagnall
This interview is from 2002.