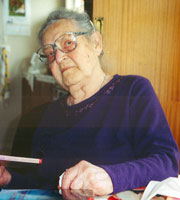 Name: Amelia Batistich
Date of birth: 11 March 1915
Date of death: 21 August 2004
Place of birth: Dargaville
What is your favourite food?
Jelly and ice cream.
Do you have a nickname and if so what is it?
Millie.
What was your most embarrassing moment?
When I opened up my last book A Better Life and read on page 2 that I had written that the line of the hymn I had quoted was from Abide with Me. I know it was from Lead Kindly Light, not Abide. Once I left out a whole very important page of a story.
How do you relax?
Reading and watching the horses Trackside on Saturdays. Music.
Who inspired you when you were little?
My teachers, the Sisters of St Joseph and Sisters of the Mission who gave me a love of words in the poetry and songs they taught me.
What were you like at school?
TALKED too much - always in trouble for that.
What was your favourite/most hated subject at school?
My favourite subject was History, English too. My most hated subject was Art or what passed for Art in those days - Drawing.
What was the book you most loved as a child?
Seven Little Australians, by Ethel Turner.
Which person from the past would you most like to meet?
I would like to meet Sir John Logan Campbell to thank him for his gift to Auckland, Cornwall Park.
Who is your favourite author/children's author?
Children's author: Dr Seuss.
Author: Ruth Park or Laurie Lee.
Why did you want to be a writer?
I have told this story on the first page of A Better Life. I was in bed with measles about 9 years old reading a very sad book; I cried and I remember sitting up in bed and saying out loud When I grow up I will write books that make people cry.
Do you have a special place where you write your books?
Yes. On my living room table. It used to be on my kitchen table when I was a younger writer. Nowadays, at my writing desk mostly.
What's the best thing and worst thing about being a writer?
The best thing is knowing that you are talking to your reader and (hopefully) telling them something they did not know before. The worst thing is what is called "writer's block" you can't write anything.
If you weren't a writer, what would you like to be?
A painter painting pictures, not walls.
What advice would you give to aspiring writers?
Keep at it - read the very best writers of yesterday and today. Write what you feel, not just what you want those who read you, will have them say how clever you are. Make them feel laugh smile cry and enjoy what you are writing. And look forward to the cheques they are so encouraging. And come in handy to pay bills; and buy more books for your library shelves.
Read some books by Amelia Batistich
This interview is from 2002.