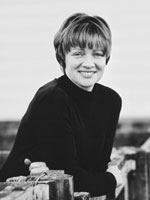 Name: Anna Mackenzie
Date of birth: 22 April 1963
Place of birth: Palmerston North
Now living in: Rural Hawke's Bay, near Hastings
What is your favourite food?
Too hard to narrow it down! I love cooking, and enjoy just about every type of food except offal and stodgy puddings!
Do you have a nickname and if so what is it?
Not these days… but my father called me 'Spider' when I was little, because I "crawled" on hands and feet rather than hands and knees, and he thought I looked like a spider. As a consequence, I've always liked spiders!
What was your most embarrassing moment?
When I was in year 12, our English teacher read the class a short story I'd written, later telling them who wrote it. I wanted to disappear beneath the floor but I did find the discussion on it interesting. They could find all sorts of hidden meanings that I hadn't even thought of!
How do you relax?
Writing! (I really love it, and being able to do something you love for a living is a real privilege.) Also, reading, cooking, cycling (sometimes not very relaxing at all, especially when I haven't been training for a while!), but best of all, holidays with my family. We have had some great holidays at lots of places all round New Zealand. One of our favourites is Mahia, and we also frequently go to Wanaka, Wellington and Taranaki to visit family.
Who inspired you when you were little?
My Dad, who was a poet, and constantly read to us and made up stories that my sisters and brother and I starred in. I was also inspired by reading: I was forever 'lost' inside a book, and from an early age wanted to create such wondrous worlds for myself.
What were you like at school?
I have always enjoyed learning things, which allowed me to enjoy the academic side of school. I also enjoyed exams! I was very shy, though, and tended to be quiet, especially in the playground. Most people who know me now don't believe that, but it's true!
What was your favourite/most hated subject at school?
I loved all subjects: I still enjoy finding out about new things. My best subjects were Maths and English.
What was the book you most loved as a child?
The Outsiders by Susan Hinton, which I first read when I was about 11. I also really enjoyed The Dark is Rising by Susan Cooper, and later, when I discovered Margaret Mahy's, opens a new window young adult novels (my favourite is The Changeover), I wished she had been writing ten years earlier because I am sure it would have been my favourite book if it had been around when I was 14 or so.
Which person from the past would you most like to meet?
That is a really hard question, because just about anyone would have so much to tell you. My pick would be William Shakespeare, because he has been such a powerful and long-lasting force in literature, and he also lived in an era which has had a powerful impact on our own.
Who is your favourite author/children's author?
There are so many good writers! Margaret Mahy, opens a new window will always be high on my list, together with Cynthia Voigt, K. M. Peyton, Peter Dickinson, Philip Pullman, Ursula LeGuin, Betsy Byars, Louis Sachar,Maurice Gee, Richard Peck, Karen Hesse, Jan Mark I could go on and on!
Why did you want to be a writer?
I have always written in one form or another: articles, short stories, poems, ads, speeches you name it. I started writing for children when I was running reading groups at my children's school and I found that I love it. I'm not sure why it took me so long to get round to this particular form of writing!
Do you have a special place where you write your books?
A few years ago, we built an office for me to work in. It has lots of light, great views and plenty of space. My family take it over every now and then, but I can usually keep a working corner for myself.
What's the best thing and worst thing about being a writer?
The best thing is the feedback I get from readers, and the sense of satisfaction when each book is finished. The worst thing is the length of time it takes for a finished manuscript to be published and to finally arrive on bookshelves.
If you weren't a writer, what would you like to be?
I've had quite a few interesting jobs over the years, but one industry I haven't yet worked in is film. I'd like to try writing for TV or film, and maybe directing.
What advice would you give to aspiring writers?
Be prepared to learn: practice, seek advice, edit your work ruthlessly, read a lot and analyse what you read: what makes it good/ bad/ gripping/ boring. And develop a strong sense of patience!
Read some books by Anna Mackenzie
More information about Anna Mackenzie
Anna Mackenzie's blog
Read posts featuring Anna Mackenzie, opens a new window from the Christchurch Kids Blog, opens a new window
This interview is from 2008.