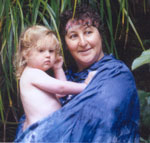 Name: Annie Rae Te Ake Ake
Date of birth: 8 July 1942
Now living in: Oropi, Tauranga, Bay of Plenty
What is your favourite food?
I have many favourite foods! At the moment it is fish and chips.
Do you have a nickname and if so what is it?
'Muffet' and 'Skinny Wannah' (I haven't been called these names in ages!!)
What was your most embarrassing moment?
I was at High School, the day was hot and I was feeling tired and began day-dreaming in class while my favourite teacher was teaching history. For a moment I forgot where I was and let out a loud yawn. Everyone turned and looked at me! My teacher thought I was being rude and told me if I wanted to sleep I could go out into the corridor! I had to move my desk outside while the whole class watched me!! My face went red with embarrassment!!
How do you relax?
I read, listen to music, go for walks, dance, sing, swim in rivers, go fishing, watch funny videos, enjoy musicals like The Sound of Music and The Mikado, go to movies like Lord of the Rings, Braveheart, Harry Potter.
Who inspired you when you were little?
My Grandmother, with the wonderful stories she told me every night.
My mother inspired me too with her love of poetry. (I remember Mum milking our cow Creamy in the paddock, and while she was squirting the milk into the bucket she would be saying poetry. The cow seemed to enjoy this).
My grandfather was also an inspiration with his love of song and adventure, and also my brother Neil who taught me to harmonise!
What were you like at school?
Well behaved, a goody-goody really! I was very shy and quiet and found it difficult speaking in front of the class or even a group! I'd go bright red and my mind would go blank! I loved playing rugby and cricket (I have two older brothers). I also loved playing basketball (now called netball) and long-ball, and swimming in the river.
What was your favourite/most hated subject at school?
My favourite subjects at school were poetry, history and maths. My most difficult subjects were creative writing, art, physics, sewing and speeches.
When I grew up I came to view these difficulties as challenges and took steps to overcome them. I am enjoying learning about quantum physics at present, and I am able to give speeches. And becoming a writer just happened after I resigned from teaching! My art and sewing skills are still a bit rusty though and leave a bit to be desired!
What was the book you most loved as a child?
The Magic Faraway Tree, by Enid Blyton; Snugglepot and Cuddlepie, by May Gibbs, and later on The Hobbit, by J. R. R. Tolkien; The Greenstone Door, by William Satchell, and then the Treasury of English Poetry.
Which person from the past would you most like to meet?
Joan of Arc; Apollonius of Tyana; Robin Hood.
Who is your favourite author/children's author?
My favourite authors are J. R. R. Tolkien, William Shakespeare and my favourite children's author is Roald Dahl. I have many many favourite authors really!
Why did you want to be a writer?
As a child the biggest marvel to me was how writers could hold all of those words and ideas in their head at one time! I realise now that writing is a process that develops and unfolds as you go! But back then, I had acquired an emotional block about writing and a blank page to me was a very scary thing! So I accepted the fact that I was not a writer and got on with it. I became a teacher and taught for 26 years in New Zealand schools. As a teacher I devoted much time to teaching children how to write.
But becoming a writer came upon me by chance really. This is how it happened! When I resigned from teaching, I was a grandmother and every day I told stories to my little grandsons. Later on I recorded 19 legends of the Māori on audio tapes (I have always been a storyteller). I gave a set to my grandsons and then began distributing them to New Zealand schools. Many teachers wrote to me asking for the transcription (the written words) to the tapes. Of course I had none! After a while I decided to meet their requests and I listened to the tapes and wrote down all of the words I had spoken. What a task!! This job took ages! It was a long laborious undertaking. Months later when I had completed this marathon of words, I found that the concentrated effort I had done had cleared the block I had acquired as a child and words just flowed off my pen!
Do you have a special place where you write your books?
At my computer with the windows looking out into pongas, miro and totara trees. I like this peaceful setting to create my stories.(I am gathering data for my stories every day through a myriad of experiences. When I see, or hear, or touch, or taste or smell something that moves me I jot down the feeling and description in a notebook. When I have a vivid dream I also jot down the parts that stand out and how I felt. I love to watch the world waking up and to see the day closing down as night falls. I comment in my book about all this. I also have quotes which appeal to me all over my wall, from poetry to philosophy).
What's the best thing and worst thing about being a writer?
The best thing about being a writer is the freedom to accept all of my thoughts as valid and worthwhile, and witnessing the stream of words flow easily from my consciousness on to the computer. As I have said, as a child the most difficult task I could imagine was to write a book! I used to wonder how writers could hold all of those words in their heads! It seemed an impossible task!
If you weren't a writer, what would you like to be?
Proof-reading, getting ready for publishing! (going over the finished script to see that all of the words are spelt correctly, and that the punctuation and grammar is correct and it all makes sense!) and then doing it all again when the book is ready to go to the printers! It is very exacting work! (and it is a good discipline for me!)
If you weren't a writer, what would you like to be?
A film producer/director; a singer with a band; a tourist guide.
What advice would you give to aspiring writers?
1. Visualise yourself with your book completed. See the crowds of people at the launching of your book. See the cover beautifully illustrated. See people going into bookstores to buy your book.
2. Draw a picture of your dream on a card. Have it in a prominent place in your room.
3. Become an observer and a listener of people.
4. Become an observer and listener of nature.
5. Never judge what you have written. It can be edited out or changed later on if necessary.
6. Write sincerely, be truthful, write about your own experiences and feelings.
7. Read and read and read!
Read some books by Annie Rae Te Ake Ake
More information about Annie Rae Te Ake Ake
This interview is from 2002.