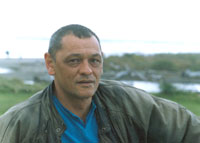 Name: Apirana Taylor
Date of birth: 15 March 1955
Place of birth: Wellington
Now living in: Paekakariki
What is your favourite food?
Kina.
Do you have a nickname and if so what is it?
No.
What was your most embarrassing moment?
Being teased about being Māori and doing the haka as people jeered at my favourite dance.
How do you relax?
I play my guitar.
Who inspired you when you were little?
My Māori culture. My mother and my father.
What were you like at school?
Average and disinterested in most things except artistic subjects.
What was your favourite/most hated subject at school?
My favourite subjects at school were art and creative writing.
What was the book you most loved as a child?
I loved books which had myths and legends in them. Māori myths, Greek myths, Viking myths etc.
Which person from the past would you most like to meet?
Jesus Christ.
Who is your favourite author/children's author?
Why did you want to be a writer?
Because I can express stories within me that I have to tell and consequently pass on something of value.
Do you have a special place where you write your books?
Yes, in my writing room and in my heart, mind and soul.
What's the best thing and worst thing about being a writer?
The best thing is that you can create things of value. The worst thing is it's not always appreciated.
If you weren't a writer, what would you like to be?
A painter.
What advice would you give to aspiring writers?
Get writing! Start by putting one word in front of the other. Keep going! Be strong! Don't ever give up!
Read some books by Apirana Taylor
More information about Apirana Taylor
This interview is from 2002.