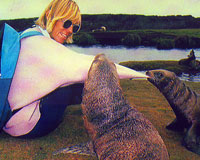 Name: Barbara Todd
Date of birth: 8 June 1941
Place of birth: Seattle, Washington, USA
Now living in: Kaikoura
What is your favourite food?
Chocolate and veges.
Do you have a nickname and if so what is it?
'Whale lady'.
What was your most embarrassing moment?
I was working on a boat and telling the other passengers about whales when I slipped on some water and fell overboard.
How do you relax?
Swimming, and walking on the beach or in the bush.
Who inspired you when you were little?
My English and Biology teachers.
I was a good student but occasionally I was a bit naughty and skipped school to go surfing.
What was your favourite/most hated subject at school?
Favourite: Biology
Least Favourite: Geometry
What was the book you most loved as a child?
Little House on the Prairie series, by Laura Ingalls Wilder; Black Beauty, by Anna Sewell.
Which person from the past would you most like to meet?
Jacques Cousteau.
Who is your favourite author/children's author?
Author: Michael Ondaatje
Children's author: A. A. Milne
Why did you want to be a writer?
I wanted to give young people accurate information about animals who share our planet, and create awareness of the problems they are facing.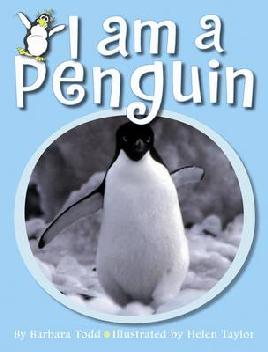 Do you have a special place where you write your books?
A bright sunny studio, and on the beach.
What's the best thing and worst thing about being a writer?
Best thing - sharing information
Worst thing - typing! Being indoors
If you weren't a writer, what would you like to be?
I only write part-time. Most of the time I work with whales and dolphins and do workshops with children.
What advice would you give to aspiring writers?
Write about the things/feelings you feel passionate about.
Read some books by Barbara Todd
This interview is from 2002.