Date of birth: 13 October 1967
Place of birth: Featherston
Now living in: Wellington
What is your favourite food?
Sugar in any form.
What was your most embarrassing moment?
Whatever it was it passed unnoticed. I'm hard to embarrass.
How do you relax?
Writing, cycling, running, listening to music, arguing…
Who inspired you when you were little?
Family, teachers, friends.
What were you like at school?
A big mouth, a bit of a bully, academically able.
What was your favourite/most hated subject at school?
Favourite: Maths
Most hated: Social Studies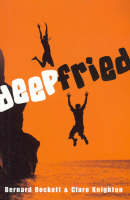 What was the book you most loved as a child?
Watership Down by Richard Adams.
Which person from the past would you most like to meet?
Jesus
Who is your favourite author/children's author?
Why did you want to be a writer?
I love telling stories.
Do you have a special place where you write your books?
At the beach or by a river.
What's the best thing and worst thing about being a writer?
The best thing is getting to share your stories. There's nothing bad about it.
If you weren't a writer, what would you like to be?
I'm a teacher, and it's the best damned job in the world.
What advice would you give to aspiring writers?
There's no such thing as an aspiring writer. If you write, you're a writer. So write, and share your stories with everybody you know.
Read some books by Bernard Beckett
More information about Bernard Beckett
This interview is from 2002.