Name: Bill Nagelkerke
Date of birth: 1958 (last century!)
Place of birth: Wellington
Now living in: Christchurch
What is your favourite food?
Strawberry sandwiches. The strawberries have to be sweet and well and truly squashed, even though this can make the bread disintegrate. Banana sandwiches are very nice too and not as messy.
Do you have a nickname and if so what is it?
No, but I keep a file of all the wrong spellings of my last name, which have included some weird and wonderful variations.
What was your most embarrassing moment?
When I was helping a girl in the children's library where I worked. For some reason I had to talk to one of her parents so I asked if her mother or father was in the library. She gave me a very strange look and asked why. It turned out that the person I was helping wasn't a child at all but a very young looking adult!
How do you relax?
Walking and watching Coronation Street (not at the same time).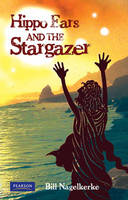 Who inspired you when you were little?
Many of the characters in the stories I read.
What were you like at school?
Probably a bit in the background.
What was your favourite/most hated subject at school?
At primary school I enjoyed art but not folk dancing, which we did from time to time, accompanied by music played loudly on a portable record player (what's a record player you ask …?). At high school most subjects were interesting, even mathematics although I wasn't very good at it.
What was the book you most loved as a child?
The Rupert annuals. Rupert was a little bear who lived in an English village but had adventures in all sorts of extraordinary places.
Which person from the past would you most like to meet?
One person would be Aristarchos of Samos, an ancient Greek astronomer who said that the earth went around the sun. He was about 2,000 years ahead of his time.
Who is your favourite author/children's author?
Too many to name them all but they include Geraldine McCaughrean, David Almond, Melvin Burgess, Margaret Mahy, opens a new window, Penelope Lively, Robert Westall, Hilary Mackay, Peter Dickinson, Jill Paton Walsh … many have written books for children and adults.
Why did you want to be a writer?
Author Richard Peck said that nobody but a reader ever became a writer.I guess I read too much!
Do you have a special place where you write your books?
Usually upstairs at home surrounded by books and with a handy window to look out of. But I've tried writing in a café in case any of the Potter magic rubbed off.
What's the best thing and worst thing about being a writer?
Best thing: entertaining people with stories you've made up.
Worst thing: boring people with stories you've made up.
If you weren't a writer, what would you like to be?
Maybe a book that was always being reprinted.
What advice would you give to aspiring writers?
Read lots. What else?
Read a short story by Bill Nagelkerke
Read some books by Bill Nagelkerke
More information about Bill Nagelkerke
This interview is from 2002.