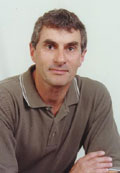 Name: Brendan Clarkin
Date of birth: 14 June 1958
Place of birth: Hamilton
Now living in: Tauranga
What is your favourite food?
Chinese and pizza - lots of it!
What was your most embarrassing moment?
As a child, having someone vomit all over me on a bus on a school trip.
How do you relax?
I read, walk and dance and spend time with my children.
Who inspired you when you were little?
The writers of my favourite books. I thought they were just wonderful for what they did.
What were you like at school?
I was fairly shy and a steady worker. I didn't get into much trouble.
What was your favourite/most hated subject at school?
My favourite subject was English. Science was the least favourite.
What was the book you most loved as a child?
I had no special favourite; I just loved reading everything.
Which person from the past would you most like to meet?
Jesus Christ.
Who is your favourite author/children's author?
I love Margaret Mahy's, opens a new window books. I also enjoy J.R.R. Tolkien and Terry Brooks.
Why did you want to be a writer?
I loved reading and wanted to be able to create a whole new world that would live in the imagination.
Do you have a special place where you write your books?
No, I just write at my desk.
What's the best thing and worst thing about being a writer?
The worst thing is not being able to write whenever I would like to. I still have to work to earn a living. The best thing is meeting people who have read and enjoyed my writing.
If you weren't a writer, what would you like to be?
I would like to be a teacher, and I am!
What advice would you give to aspiring writers?
Read lots, write lots, and have fun. If you enjoy what you are doing you will be successful.
Read some books by Brendan Clarkin
This interview is from 2002.