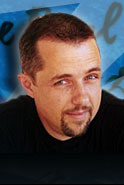 Name: Brian Falkner
Date of birth: 20 July 1962
Place of birth: Northcote, Auckland
Now living in: Albany
What is your favourite food?
Barbecued whole fillet steak
Home made hamburgers
Do you have a nickname and if so what is it?
No, but I am open to suggestions.
What was your most embarrassing moment?
If I was to tell that in a public place like this, that would become my most embarrassing moment!
How do you relax?
Dim lights, glass of wine, good book and classical music.
Who inspired you when you were little?
Writers: Enid Blyton, Willard Price, Arthur C. Clarke
Other: Edmund Hillary, Neil Armstrong, Elaine Spearman (a teacher)
What were you like at school?
Clever, but could try harder (according to my school reports).
What was your favourite/most hated subject at school?
Favourite: Maths
Most hated: P.E. (I wasn't very sporting)
What was the book you most loved as a child?
Dune, by Frank Herbert. (I was an advanced reader!)
Which person from the past would you most like to meet?
JFK (John F. Kennedy)
Who is your favourite author/children's author?
Why did you want to be a writer?
I'm not sure. Why do eggs want to be chickens? Why do acorns want to be oak trees?
Do you have a special place where you write your books?
I write mainly in my office, but can, and do, write anywhere including the beach.
What's the best thing and worst thing about being a writer?
Worst: the incredible amount of work you do, and the length of time it takes, with no guarantee of publication.
Best: meeting your audience, talking to kids in schools
If you weren't a writer, what would you like to be?
If I weren't a writer, I would want to be one!
What advice would you give to aspiring writers?
Writing is like learning to walk. You fall down, you get back up and try again. Little by little you learn from your mistakes. You get better and better at it, and one day it just happens and it is a magical moment.
Read a short story by Brian Falkner
Read some books by Brian Falkner
More information about Brian Falkner
Read posts featuring Brian Falkner, opens a new window from the Christchurch Kids Blog.
This interview is from 2005.