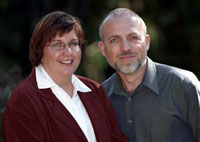 Name: Darryl Torckler
Date of birth: 14 April 1956
Place of birth: Whangarei
Now living in: Warkworth
What is your favourite food?
Puddings.
What was your most embarrassing moment?
Too many to name.
How do you relax?
Watch movies, especially science fiction and comedy.
Who inspired you when you were little?
Jacques Cousteau.
What were you like at school?
More practical than academic.
What was your favourite/most hated subject at school?
Favourite: Geography.
Most hated: English.
What was the book you most loved as a child?
The Sea.
Which person from the past would you most like to meet?
Albert Einstein.
Who is your favourite author/children's author?
Children's: Julia Donaldson.
Why did you want to be a photographer?
Because photography was my hobby and became my favourite thing to do, so I decided to find a way to do it all the time.
Do you have a special place where you plan your photographs?
Anywhere quiet without distractions.
What's the best thing and worst thing about being a photographer?
Best: I love my job.
Worst: the weather.
If you weren't a photographer, what would you like to be?
A scientist.
What advice would you give to aspiring photographers?
Take lots of pictures — get out there and do it! Take pictures of things that excite you and eventually you'll get great pictures. Study lots of different styles and talk to photographers when you get the chance.
Read some books by Darryl Torckler
More information about Darryl Torckler
Darryl Torckler's website
This interview is from 2002.