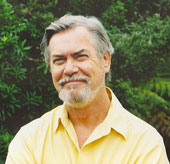 Name: Dave Gunson
Date of birth: 1948
Place of birth: Liverpool, England
Now living in: Auckland
What is your favourite food?
Fish and chips, good pasta of just about any sort, fry-ups — yeah!
Do you have a nickname and if so what is it?
At school I was 'Ben' because of Ben Gunn in Treasure Island (and like Ben, I love cheese).
What was your most embarrassing moment?
Realising, too late, that I'd painted the moon wrong in the OWLS poster for NZ Geographic magazine — I'd used a northern hemisphere reference — but in the southern hemisphere it's viewed 'upside down'.
How do you relax?
Reading, playing music (guitar), more reading…
Who inspired you when you were little?
Nobody — all I wanted to do was draw!
Lazy, bored, naughty — and only enthusiastic when the master was enthusiastic about his subject!
What was your favourite/most hated subject at school?
Loved Art and English Literature, liked English Language and Biology and History… hated Maths (except Geometry, which I could see).
What was the book you most loved as a child?
As a little kid I loved it when the teacher read to us from The Faraway Tree, by Enid Blyton. Later, I enjoyed the classics — Treasure Island, and Kidnapped, by Robert Louis Stevenson and all that… loved encyclopedias… and devoured comics.
Which person from the past would you most like to meet?
Very difficult… probably my dad, when he was a boy, or a young man. My dad died in 1998, aged 84, so he grew up in interesting times…
Who is your favourite author/children's author?
Martin Amis, John Steinbeck, V. S. Naipaul, Stephen King and Raymond Briggs.
Why did you want to be a writer?
A desire to write came long after the desire to draw and paint. To create a fictional world and manipulate the characters within it is the best thing — like being let loose in a sweet shop!
Do you have a special place where you write your books?
Nope — in the studio, in the lounge, on the deck — with radio on, radio off, whatever.
What's the best thing and worst thing about being a writer?
Best:
Seeing the work finished and knowing that there's nothing more one can do to improve it.
Seeing the book in print.
The range of people's reactions and unexpected viewpoints, etc.
Worst:
For an artist and a writer, there's nothing more intimidating than a perfectly blank piece of paper.
Not having a pencil long enough to doodle on the ceiling when lying in bed!
Getting stuck! (writer's and artist's blank!)
If you weren't a writer, what would you like to be?
An illustrator/artist.
If you weren't an illustrator/artist, what would you like to be?
A writer.
And if I couldn't be either, I'd be a musician… but, I'm that as well, so perhaps I'd work for the Department of Conservation.
What advice would you give to aspiring writers?
Read, read, read, practise, practise, practise (not forgetting re-write, re-write, re-write)
Write to please yourself first — if it's not fun and enjoyable, then you're doing it for the wrong reasons!
Read some books by Dave Gunson
More information about Dave Gunson
Dave Gunson's website
Read posts featuring Dave Gunson from the Christchurch Kids Blog.
This interview is from 2005.