Name: David Elliot
Date of birth: 10 November 1952
Place of birth: Ashburton
Now living in: Port Chalmers, Dunedin
What is your favourite food?
Curry.
Do you have a nickname and if so what is it?
No.
What was your most embarrassing moment?
Talking to a group of 6th form girls and not realising that my fly was undone.
How do you relax?
Swimming and walking the dog (we have an old dog called Kelly).
Who inspired you when you were little?
My mum and dad.
What were you like at school?
Quiet and shy.
What was your favourite/most hated subject at school?
Favourite: English
Most hated: Maths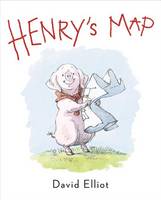 What was the book you most loved as a child?
Winnie the Pooh by A. A. Milne.
Which person from the past would you most like to meet?
Leonardo da Vinci.
Who is your favourite author/children's author?
Children's: Margaret Mahy, opens a new window.
Why did you want to be a writer?
Because I wanted to express my imagination.
Do you have a special place where you write your books?
In my studio, on my walks, anywhere really.
What's the best thing and worst thing about being a writer?
Best: Meeting lots of other people who love books.
Worst: Deadlines.
If you weren't a writer, what would you like to be?
An explorer.
What advice would you give to aspiring writers?
Read lots of books and think about how they are written.
Read some books by David Elliot
More information about David Elliot
David Elliot's website
Read posts featuring David Elliot from the Christchurch Kids Blog.
This interview is from 2005.