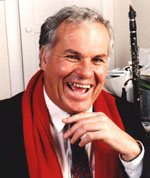 Name: Denis Edwards
Place of birth: Wellington
Now living in: Auckland
What is your favourite food?
It's supposed to be anything healthy and nutritious. Sadly I live in the middle of about twenty cafes, so favourite is whatever is immediately available. I sincerely hope no one follows this example.
What was your most embarrassing moment?
I used to work for the St John Ambulance service in Auckland. One night we rushed into a house where someone was supposed to be nearly dead in bed. We raced into the bedroom, ready to start saving their lives. The person sat up in bed and asked us to get out. That's when we realised we were in the wrong house.
How do you relax?
Sports mostly; swimming, tennis, walking — mostly to the top of Mt Eden and back.
Who inspired you when you were little?
A whole string of amazing teachers and the books written by Robert Louis Stevenson. He wrote Kidnapped and Treasure Island. I read them both lots of times.
What were you like at school?
I liked sport and anything that didn't have maths and arithmetic in it. It's why I can't balance my cheque book or do my tax.
What was your favourite/most hated subject at school?
Favourite subject: anything with sports in it!
Most hated: Sums! Arithmetic! Maths!
What was the book you most loved as a child?
Treasure Island, by Robert Louis Stevenson.
Which person from the past would you most like to meet?
Jesse Owens, the African-American runner who won his gold medals in front of Adolf Hitler, a dictator who hated anyone who wasn't German. I would want to know what it felt like to see a bully like Hitler grinding with rage when someone like Jesse Owens won everything.
Who is your favourite author/children's author?
Why did you want to be a writer?
I like to entertain and tell stories. It just seemed to make sense one day to sit down and write them down, instead of telling them to people at parties.
Do you have a special place where you write your books?
Yes, I have a little office full of reference books, a computer and piles of — messy — files and paper.
What's the best thing and worst thing about being a writer?
Best thing: when a book or a play comes out.
Worst thing: when reviewers who have never written anything themselves attack the book or play.
If you weren't a writer, what would you like to be?
The oldest professional sportsman in New Zealand.
What advice would you give to aspiring writers?
Keep going. Never, ever, ever, ever, give up. If someone doesn't like your stuff learn what you can from them and then don't show it to them again. Did I mention keep going and never, ever, ever, ever, give up.
Read some books by Denis Edwards
More information about Denis Edwards
This interview is from 2002.