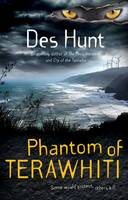 Name: Des Hunt
Date of birth: 29 December 1941
Place of birth: Palmerston North
Now living in: Matarangi, Coromandel Peninsula
What is your favourite food?
Pizza.
Do you have a nickname and if so what is it?
Dessy.
What was your most embarrassing moment?
Several – all of them involving trying to get to know girls.
How do you relax?
Reading.
Who inspired you when you were little?
An author named Howard Spring (aged 13 years +).
A teacher who was involved in the rediscovery of the takahe in 1947.
A nerd — though nobody labelled us that in the 1950's – we were accepted like all other kids.
What was your favourite/most hated subject at school?
Favourite: Science
Most hated: English
What was the book you most loved as a child?
A Golden Book about a penguin who hated the cold and sailed off in a bathtub to the tropics.
Which person from the past would you most like to meet?
Isaac Newton.
Who is your favourite author/children's author?
Maurice Gee, opens a new window.
Why did you want to be a writer?
To help people understand how special New Zealand nature is.
Do you have a special place where you write your books?
I have an office which overlooks the Pacific Ocean.
What's the best thing and worst thing about being a writer?
The best thing is writing. The worst is waiting to see if it is accepted by a publisher.
What advice would you give to aspiring writers?
Write and write and write. Then read and reread what you have written.
Read some books by Des Hunt, opens a new window
Des Hunt's website, opens a new window
Read posts featuring Des Hunt, opens a new window on the Christchurch Kids blog, opens a new window.

This interview is from 2002.