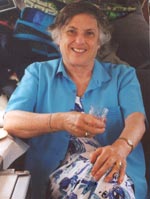 Name: Diane Hebley
Date of birth: Antediluvian
Place of birth: Hastings
Now living in: Taradale
With a husband, a grown-up daughter and two sons, and a baby granddaughter.
What is your favourite food?
Chocolate.
Do you have a nickname and if so what is it?
No.
What was your most embarrassing moment?
I've had too many to choose only one.
How do you relax?
Spending time dining, wining, chatting with family and friends. Reading, listening to classical music — quartets, trios, concertos, especially those featuring the cello. (My daughter plays the cello professionally, which delights me.)
Who inspired you when you were little?
Great swimmers of the day (I wanted to swim the English Channel) and writers of many books.
What were you like at school?
A bit of a rowdy rebel, though I loved learning and was involved with all sports at top levels and with musical activities, piano especially.
What was your favourite/most hated subject at school?
My favourites were English language and literature, and French, Latin and later Greek language and literature, and History. I also loved Maths though I wasn't as good at Maths as I was at other subjects.
My most hated subject was General Science when animals were cut up for observation.
What was the book you most loved as a child?
Black Beauty, by Anna Sewell. (My ponies were my great loves.)
Which person from the past would you most like to meet?
Shakespeare or Beethoven, but both would probably be overwhelming.
Who is your favourite author/children's author?
I enjoy many authors' works, but I'm always amazed by Margaret Mahy, opens a new window.
Why did you want to be a writer?
I wanted to explore experiences in New Zealand and share them with others.
Do you have a special place where you write your books?
My home — at the computer, at the dining table, in bed.
What's the best thing and worst thing about being a writer?
Best: Huge satisfaction when all goes well.
Worst: Huge frustration when it doesn't.
If you weren't a writer, what would you like to be?
A classical musician or a painter, though I haven't the skills to be either.
What advice would you give to aspiring writers?
Read, enjoy life's experiences, write, read, enjoy life's experiences, write, and write, and write…
Read some books by Diane Hebley
More information about Diane Hebley
This interview is from 2002.