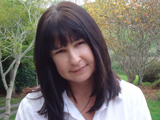 Date of birth: 1970
Place of birth: Whangaparaoa
Now living in: Whangarei
What is your favourite food?
Ice-cream! Long ago I entered an ice-cream eating competition in Las Vegas and guess who won! Yes me! Given half a chance I bet I could eat a lot of strawberries and blueberries too! I also love pavlova, kiwi fruit, peaches, plums, feijoa, and self saucing chocolate pudding! (Check out the Edmonds Cookbook if you want to make it).
Do you have a nickname and if so what is it?
Um, well I answer to a lot of names - Don, Donz, Donzie – but when I was at school I was called Bubbles for a while by my friends (I had chubby cheeks), and hapuka by a boy in my class (also because of the cheeks!). Nobody called me Blabber until I was 25! Can you believe it? These days I answer to most things... (and I do tend to talk a lot if I like you).
What was your most embarrassing moment?
Golly, well there are lots. Beginning when I was about six years old I remember accidentally wearing my shortie summer PJ bottoms to school instead of undies (and I didn't even realise until the prettiest girl in the class pointed it out!). Another time when I was a lot older (about 32) I stood outside a bank for about five minutes waiting for the doors to automatically open (it was just a normal door with a handle). I think everyone wondered what on earth I was doing. What makes it worse is I even asked a few passersby why the door wasn't opening — quite mad! In my defence I was very jet-lagged as I'd just returned to NZ from Singapore. Silly me!
How do you relax?
I like collecting shells at the beach. Beachcombing is so cool, you never know what you may find. Once I found a fossil, another time I found a shell from Fiji! Once when I was little I even found a $5 note. I travel quite a lot and wherever I am I always make time for a walk on the beach. When I have spare time at home I like hanging out in my veggie garden. I find it strangely soothing. It's a great place to read and reading is also one of my all time favourite relaxing activities.
Who inspired you when you were little?
My Nana. Enid Blyton. Laura Ingalls Wilder (I always wanted to be her). Then there was a teacher (when I was 10) called Mr Drummond who made me read my first chapter book to the class every day after lunch for a week or so and who told me I would be an author. Mrs Murray, my 4th Form (Year 10) English teacher also inspired me to write more and I always tried to work hard in her class. Actually there were lots of people who inspired me when I was younger, all in different ways.
What were you like at school?
Um, I would describe myself as quiet, a little shy, and perhaps even a little unsure. I spent a lot of time observing people and wondering why they do the things they do. Luckily for all of us our friends see us quite differently from how we see ourselves. Here's what one of my best friends says about me back then:Friendly, talkative, brainy, sporty. As you can see it's completely different from how I remember myself!
What was your favourite/most hated subject at school?
I loved reading, writing and sport. I didn't enjoy maths much because it always annoyed me that there was only ever one correct answer to any problem. With a story there are hundreds, millions of possibilities. Much more fun!
What was the book you most loved as a child?
Ah, gosh, it's so hard to choose just one book. Five Go Off To Camp by Enid Blyton was a favourite and I read it hundreds of times (my favourite characters were George and Timmy the dog). Little House on the Prairie by Laura Ingalls Wilder was so cool, I really loved that she wrote it herself and so I collected the whole series... I also liked Swallows and Amazons by Arthur Ransome, Flash by Joyce Stranger, oh really I must stop because otherwise I will go on and on!
Which person from the past would you most like to meet?
Albert Einstein.
Who is your favourite author/children's author?
I'm lucky because my children are big readers and they always leave books that they enjoy on my bed for me to read and so I read a lot of children's books. At the moment they love Andy Griffiths and Michael Morpurgo and I must say that I do too! In the past we've devoured everything ever produced by Margaret Mahy and Lynley Dodd. Wonderful books! I must say that I like lots of books of other books but most especially the language and characters found in books written by Rosamude Pilcher, Maeve Binchy,Arundhati Roy, and Khaled Hosseini – just to name a few. I recently read The Scent of Apples by New Zealand author Jacquie McRae and thought that it was very good, as well as a book called Burned by Australian writer Persephone Nicholas.
Why did you want to be a writer?
I've always wanted to be a writer, ever since I wrote my first real story when I was six years old. It was about a cricket family I caught in my bug catcher. I guess sharing my thoughts in story form has always been important to me. I became a journalist to learn the writing craft, and then branched out and started writing about other things.
Do you have a special place where you write your books?
Yes, I work from a home office which is separate to our house. It's nice and quiet so I can concentrate. Sometimes however, if it's cold and my children are at school I just take my laptop and sit on a couch by the fire and do my work from there!
What's the best thing and worst thing about being a writer?
The best thing about being a writer is playing with words and creating new worlds. I also love sharing my life and chatting with children at schools. The worst thing is I am a bit of a chatterbox (or so my friends say!) and so sometimes instead of talking to work mates I have interesting discussions by the fire with our lovely ginger cat.
If you weren't a writer, what would you like to be?
A teacher or a psychologist (or in another life, a roller skate park owner, dancer, guitarist, or clown).
What advice would you give to aspiring writers?
Writers write, so if you want to be a writer, just keep writing. You don't have to be the best in the class but if you keep writing you will become the best (and that's a promise!). Ask your teacher to invite authors and writers to visit your school; all journalists, writers and authors have different advice to offer. Also join as many writing courses and workshops as you can; you'll learn something new every time! Lastly, my personal favourite tip is to consider studying to become a journalist, it's a good way to learn to write fast and ensure that you never have writer's block.
Read some books by Donna Blaber
This interview is from 2014.