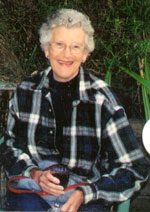 Name: Dorothy Butler OBE
Date of birth: 24 April 1925
Place of birth: Grey Lynn, Auckland
Now living in: Kare Kare, Waitakere City, Auckland
What is your favourite food?
Any dessert made with apples (preferably with cream!)
Do you have a nickname and if so what is it?
I was always called 'Curly' at school because of my hair, and my eldest friends — dating back to 1939 at Auckland Girls' Grammar School, still call me 'Curly'.
What was your most embarrassing moment?
Some years ago I was involved in making some 'video' books for children. In one video, I was meant to be reading to children on a plane. As the cameras started rolling, I leaned back — and my seat fell over backwards! The children on either side stayed upright, and were most alarmed. Everyone shrieked with laughter, and the cameraman played it back. It was hilarious!
How do you relax?
Reading (to myself, and aloud to grandchildren) gardening and walking with my dog Martha on our wonderful, wild beach.
Who inspired you when you were little?
My mother, who told us engrossing tales of her childhood in Thames; my grandmother who lived with us and told us tales of coming to New Zealand in a sailing ship; my father, who was funny (and not strict) and a few teachers.
What were you like at school?
I learned to read very easily, but was very talkative and often in trouble. But I enjoyed school. I was good at games, and played cricket and hockey.
What was your favourite/most hated subject at school?
I didn't really hate anything, but was always bored with the sort of science we learned then. I always loved writing, and read everything, suitable or unsuitable, that I could lay my hands on.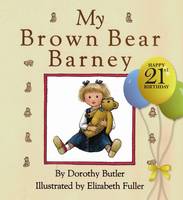 What was the book you most loved as a child?
David Copperfield, by Charles Dickens. We owned a copy and I read it from the time I could read. I'm sure I didn't understand it, but I loved it anyway.
Which person from the past would you most like to meet?
Who is your favourite author/children's author?
I like so many it is impossible to choose. I still read Dickens, Jane Austen, Thomas Hardy, the Brontes… I don't have a favourite modern adult author, but like many.
Children's authors: Margaret Mahy, opens a new window, Leon Garfield, Barbara Willard.
Why did you want to be a writer?
I'm not sure that I did! My first book, Cushla and her books, was really a thesis (at Auckland University) and then several publishers asked me to write. Later I started writing children's books. I love that!
Do you have a special place where you write your books?
I have a large study in our hundred-year-old house, with a big kauri desk which is always piled with books and papers! As I've always had to snatch time to write, I've learned to write anywhere.
What's the best thing and worst thing about being a writer?
There aren't any bad things about being a writer! The good things: satisfaction when you see your book, in my case a lot of overseas travel when I was given awards, meeting other authors, and visiting children in schools and libraries.
If you weren't a writer, what would you like to be?
Before I was a writer I was a teacher, then a mother of eight children and before long a bookseller. I loved all these occupations — and now I love having 25 grandchildren, 1 great grandson, 1 dog, 2 cats — and a husband who has always been helpful and supportive.
What advice would you give to aspiring writers?
Write, write, write, WRITE! Although you should watch and listen to people, you should not be too sociable, all the time. Writers have to spend hours and hours alone, writing!
Read some books by Dorothy Butler
This interview is from 2002.