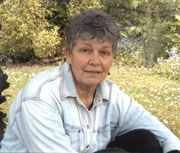 Name: Elizabeth Pulford
Date of birth: 16 February 1943
Place of birth: Grimsby, Ontario, Canada
Now living in: Waikouiti
What is your favourite food?
Hot, salty steamy chips. Yum!
Do you have a nickname and if so what is it?
At school it was 'Plonk'!
What was your most embarrassing moment?
Wearing a new pair of knee-length boots and the tassels twisting together, locking my legs and sending me crashing to the ground.
How do you relax?
Go out into the garden to sit or work. Read. Be a couch-potato in front of the telly.
Who inspired you when you were little?
Anyone who wrote books.
What were you like at school?
I was always getting into trouble for acting the fool.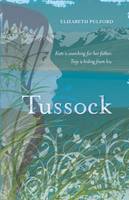 What was your favourite/most hated subject at school?
Loved: Reading.
Hated: Maths.
Most creative subject: Spelling (still is).
What was the book you most loved as a child?
The Magic Faraway Tree by Enid Blyton.
Which person from the past would you most like to meet?
My great-grandmothers on both sides of the family. One English, one Ukrainian.
Who is your favourite author/children's author?
Adult: May Sarton (her journals).
Children's: Too many to name, but especially Enid Blyton.
Why did you want to be a writer?
Always loved words, stories and wanted adventures.
Do you have a special place where you write your books?
A little sunroom, up amongst the branches of trees.
What's the best thing and worst thing about being a writer?
Best: creating new worlds and new 'character' friends.
Worst: correcting my own rotten spelling!
If you weren't a writer, what would you like to be?
A ballerina. But I was a bit fat as a child.
What advice would you give to aspiring writers?
Write, write, write. Read, read, read.
Read a short story by Elizabeth Pulford
Read some books by Elizabeth Pulford
More information about Elizabeth Pulford
Elizabeth Pulford's website
Read posts featuring Elizabeth Pulford from the Christchurch Kids Blog.
This interview is from 2006.