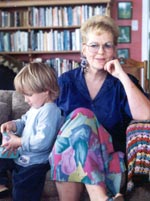 Name: Frances Cherry
Date of birth: 25 November 1937
Place of birth: Wellington
Now living in: Paekakariki
What is your favourite food?
Chicken, lots of salads and raw fruit.
Do you have a nickname and if so what is it?
No.
What was your most embarrassing moment?
When I was a teenager, seeing my Communist mother standing on a soapbox in Courtenay Place, Wellington, making a speech.
How do you relax?
Reading, watching good drama on TV, having dinner with friends.
Who inspired you when you were little?
The writer Jack London - (and my mother).
What were you like at school?
Very shy at primary school. A clown at secondary school, I didn't work, just acted the fool - though I loved my English teacher.
What was your favourite/most hated subject at school?
Favourite: English, especially writing stories, also art.
Most hated: Maths.
What was the book you most loved as a child?
Tom Sawyer, by Mark Twain.
Which person from the past would you most like to meet?
The writer Carson McCullers.
Who is your favourite author/children's author?
Adult author: Ian McEwan
Children's author: John Marsden.
Why did you want to be a writer?
I loved becoming other people and living in worlds I had created. When I was at primary school I made up a girl called Beverley Donnelly. She lived in the sort of house I wanted to live in. I told my sister elaborate details of Beverley's life and my sister was never sure if I was telling the truth or not. When I write I can be any age or any person I want to be, even a murderer.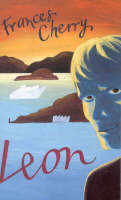 Do you have a special place where you write your books?
Upstairs on the mezzanine floor at my computer.
What's the best thing and worst thing about being a writer?
Best: Having a book accepted by a publisher and then getting good feedback from readers.
Worst: Being rejected, worrying about reviews.
If you weren't a writer, what would you like to be?
An artist and an actor.
What advice would you give to aspiring writers?
Go to a writer's workshop, be prepared to take criticism, don't be defensive about your writing. Do it! Don't talk about it. Be disciplined, sit on your bum for several hours a day, and do it!
Read a short story written by Frances Cherry
Read some books by Frances Cherry
More information about Frances Cherry
Frances Cherry profile Storylines