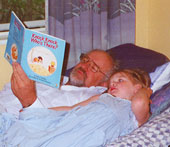 Name: Frank Saxton
Date of birth: 4 April 1952
Place of birth: Hastings
Now living in: Nelson
What is your favourite food?
Potatoes.
Do you have a nickname and if so what is it?
Sacks.
What was your most embarrassing moment?
When I pooed my pants in Primer One.
Lying down, reading.
Who inspired you when you were little?
What were you like at school?
A good quiet boy.
What was your favourite/most hated subject at school?
Most hated: hard maths.
What was the book you most loved as a child?
None: I wasn't much of a reader when I was a kid.
Which person from the past would you most like to meet?
Te Kooti (Te Kooti Arikirangi Te Turuki).
Who is your favourite author/children's author?
I don't have one favourite.
Why did you want to be a writer?
When I die the book will still live.
Do you have a special place where you write your books?
A computer and keyboard and a quiet room.
What's the best thing and worst thing about being a writer?
Best thing: holding the first copy in your hands
Worst: getting started.
If you weren't a writer, what would you like to be?
Helicopter pilot.
What advice would you give to aspiring writers?
Get started and keep at it.
Read some books by Frank Saxton
This interview is from 2002.