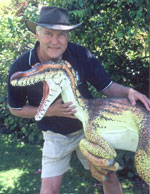 Name: Geoffrey Cox
Date of birth: 20 January 1952
Place of birth: England
Now living in: Rotorua
What is your favourite food?
Pizza (when I make it myself).
What was your most embarrassing moment?
Too embarrassed to tell you.
How do you relax?
I paint and draw (I do a comic strip for fun) tramping, kayaking, listening to music, going to ballets and operas.
Who inspired you when you were little?
Peter Scott (a wildlife author, artist and TV personality), David Attenborough.
What were you like at school?
Quiet, shy, good at art, terrible at spelling, not very good at maths, bad at sport.
What was your favourite/most hated subject at school?
Favourite: Art, Biology, English (after age 14).
Most hated: Languages, Maths.
What was the book you most loved as a child?
Don't know. I was very fond of a book called Animals of East Africa, which was the first book I saved up for and bought with my own pocket money. I still have it.
Which person from the past would you most like to meet?
No one springs to mind.
Who is your favourite author/children's author?
I don't really have favourites. I usually enjoy books by George MacDonald Fraser, and I like the Narnia series by C. S. Lewis.
Why did you want to be a writer?
I'm not really certain. I think I just like taking lots of information and re-presenting it in what I feel is a more logical, easier to understand way. Some books I have written so I can find out more about the subject.
Do you have a special place where you write your books?
I usually work in my studio (where I am now) which looks out over Lake Rotorua and is very peaceful. However I can work almost anywhere - once the words are sorted in my mind, I don't need a special place to put them on paper.
What's the best thing and worst thing about being a writer?
Best thing: Being your own boss, having free time when you want it, doing what you want to do.
Worst thing: Working alone; always worrying if there will be another job after this one, not usually earning very much.
If you weren't a writer, what would you like to be?
A research scientist, working outdoors on animal research, perhaps in a country in Africa. Or maybe a palaeontologist, specialising in dinosaurs.
What advice would you give to aspiring writers?
Get lots of practice before you try writing for a living. I was good at writing when I left school, but it was really working for seven years as a copywriter for a medical publishing and advertising agency that made me a really confident writer.
Read some books by Geoffrey Cox
This interview is from 2002.