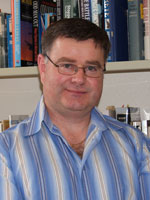 Name: Glyn Harper
Date of birth: 12 March 1958
Place of birth: Christchurch
Now living in: Palmerston North
What is your favourite food?
Most kinds. Pizza is pretty good though.
Do you have a nickname and if so what is it?
No.
What was your most embarrassing moment?
Too many to choose from.
How do you relax?
Reading a good book. Movies. Fishing.
Who inspired you when you were little?
Some great writers Robert Louis Stevenson, Alistair MacLean, Ian Fleming.
Some teachers were inspirational too.
Generally good. I had a bad two years in the third and fourth forms when I went off the rails a bit.
What was your favourite/most hated subject at school?
Favourite: English. Most hated: Maths.
What was the book you most loved as a child?
Really too many to choose from: Dr No, by Ian Fleming; Ice Station Zebra, by Alistair MacLean. Enid Blyton's Famous Five series was great.
Which person from the past would you most like to meet?
Winston Churchill.
Who is your favourite author/children's author?
Children's author either C.S. Lewis or Enid Blyton.
Adult author Dan Brown (The Da Vinci Code) is very good.
Why did you want to be a writer?
It's just something I have always wanted to do.
Do you have a special place where you write your books?
When the research is completed the kitchen table at home.
What's the best thing and worst thing about being a writer?
It's great when people say how much they enjoyed reading your book.
Worst thing not enough time to write. "So many ideas, too little time".
If you weren't a writer, what would you like to be?
A teacher.
What advice would you give to aspiring writers?
It's hard work, but go for it!!
Read a short story online by Glyn Harper
Read some books by Glyn Harper
This interview is from 2005.