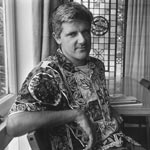 Name: Gregory O'Brien
Date of birth: 9 April 1961
Place of birth: Matamata (in the Waikato)
Now living in: Hataitai, Wellington
What is your favourite food?
Authentic Indian curry.
Do you have a nickname and if so what is it?
I was called Gob at school, on account of my initials. As a smallish child I was Gilly (because my slightly older brother could not pronounce Gregory).
What was your most embarrassing moment?
One day while I was at university I needed to brush my hair but couldn't find my comb. I turned the flat upside down before finally getting on my bicycle and riding in to the university. About half way through my first lecture, my hand touched something unexpected in my hair. It was the comb. I must have started combing my hair first thing in the morning then been distracted… I replayed the last few hours in my mind. The unusual looks I had been receiving suddenly made sense.
How do you relax?
I drink many, many cups of tea, as anyone who knows me will confirm. I also listen to all kinds of music: J.S. Bach to Nick Cave.
Who inspired you when you were little?
When young I was inspired by landscape mostly. I loved spending all the school holidays at my mother's family's farm at Opunake, Taranaki. Drawing and, a little later, painting were important to me. We had a few old New Zealand paintings in the house and later a watercolour or two by the NZ artist Frances Hodgkins, who has always been one of my heroes. I used to draw a lot.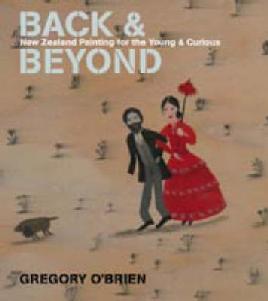 What were you like at school?
I was an energetic and independent boy at primary school, but succumbed, I think, to various outside expectations while at secondary school, at which time I played rugby (which I didn't like), and did subjects like book-keeping and maths (which I didn't like). When I left secondary school, aged 16, I got back to being the person I was at primary school.
What was your favourite/most hated subject at school?
English was the best subject for me at secondary school, which probably isn't a surprise. I would have taken art or art history except those subjects weren't on offer when I was at school. These days I have trouble remembering what subjects I did in fifth and sixth form. Most of what I encountered was of no interest and made little impression on me… chemistry, maths, accounting…
What was the book you most loved as a child?
I remember reading, happily, Tove Jansson's Moomintroll books and Ronald Searle's English boarding school sagas - but the book I loved most as a child was The Lord of the Rings, by J.R.R. Tolkien, which I was given for Christmas in 1969, when I was eight. I took a year to read it. Wow. A few years later I discovered the Irish writer Flann O'Brien (who I thought, for a time, was a relation of mine). His book The Poor Mouth is truly wonderful - for anyone aged about 12 or over.
Which person from the past would you most like to meet?
I would like to meet all the great writers I've read, the great musicians and composers I've listened to, and the great painters. Hence, in no particular order: William Blake, Claudio Monteverdi, J. S. Bach, Heinrich Biber, Erik Satie, John Cage, the poet Elizabeth Bishop, Pablo Picasso, the saxophonist John Coltrane, pianist Thelonious Monk, Frances Hodgkins, John Lennon and Bob Dylan (although maybe he's not in the past yet). And I would like to have a three-way conversation with Jesus Christ and Karl Marx, both of whom dreamed a better world than the one we've got at the present moment.
Who is your favourite author/children's author?
I don't differentiate between children's and adult writers. Here are a few of my 'Greats': Janet Frame, Margaret Mahy, opens a new window, Tove Jansson, Lauren Child, Pablo Neruda, Blaise Cendrars, August Kleinzahler, the Scottish poet Frank Kuppner, Sara Fanelli, Bill Manhire, John Berger, Marcel Proust… I like writers who write as though their very lives depended upon it!
Why did you want to be a writer?
I love reading and writing and doing things. This probably adds up to being a writer.
Do you have a special place where you write your books?
I have a studio in my basement where I paint some of the time and where I write some of the time. I also work part-time at City Gallery Wellington, putting together exhibitions and writing essays about art. Walking is an important part of 'writing' for me. I write while walking around the Wellington waterfront, stopping frequently to note down longer ideas (I can manage short phrases on the hop, without even slowing down). I have never, in my years of working this way, bumped into anyone, collided with a lamp-post or stepped in any of the hazardous materials dogs leave on footpaths.
What's the best thing and worst thing about being a writer?
Writing is great. But the kinds of things I write - essays, poetry, art-criticism - don't tend to pay very much money. That's another reason I walk everywhere, instead of driving around in a Cadillac.
If you weren't a writer, what would you like to be?
If I wasn't a writer I'd be a painter. In actual fact I do both things flitting to and fro between the visual arts world and the literary world.
What advice would you give to aspiring writers?
My advice for young writers is read as many books as you can. Read widely, impulsively and - when you feel the call - obsessively. It's also useful to have other skills, so don't neglect: playing the guitar, surfing, painting and drawing, bicycling, traveling, and thinking about stuff in general. It's important for all of us to think about how we can make the world a better place.
Read some books by Gregory O'Brien
More information about Gregory O'Brien
This interview is from 2002.