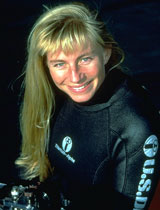 Name: Ingrid Visser
Date of birth: 20 February 1966
Place of birth: Wellington
Now living in: Tutukaka, Northland
What is your favourite food?
Chocolate.
Do you have a nickname and if so what is it?
"Orca"
What was your most embarrassing moment?
There's too many to pick just one!
How do you relax?
Swimming, horse riding, reading a book.
Who inspired you when you were little?
Dian Fossey.
What were you like at school?
A 'social reject' - I didn't have many friends - a bit of a nerd.
What was your favourite/most hated subject at school?
Favourite - Biology. Most hated - Maths
What was the book you most loved as a child?
The Boy Who Sailed Around the World Alone, opens a new window, by Robin Lee Graham, and Dolphin Day (author unkown).
Which person from the past would you most like to meet?
Recent past - Dian Fossey (studied gorillas).
Who is your favourite author/children's author?
Arthur C. Clarke, opens a new window.
Why did you want to be a writer?
To tell people about the orca.
Do you have a special place where you write your books?
No - just wherever I am - I usually work while travelling for my other job - 'Eco-tourism' - e.g. to Antarctica.
What's the best thing and worst thing about being a writer?
Best - getting correct information out there and then hearing people say the right things when talking about orca. Worst - deadlines.
If you weren't a writer, what would you like to be?
I'm not only a writer, now, so I have another job - orca researcher - but I don't get paid for this so have another job to earn money - I work on 'eco-tourism' ships to various destinations. On these I work as a biologist - telling the people about the wildlife, give lectures, and drive boats.
What advice would you give to aspiring writers?
Write about things that are important to you - it might be an experience you had, or it might be something you imagined - but whatever it is, do it to the best of your abilities.
Read some books written by Ingrid Visser, opens a new window
This interview is from 2002.