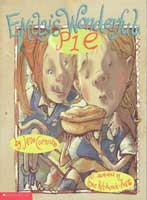 Name: Jane Cornish
Date of birth: 14 December 1954
Place of birth: Lower Hutt
Now living in: Auckland
What is your favourite food?
Pasta.
Do you have a nickname and if so what is it?
Mum.
What was your most embarrassing moment?
Going to a doctor who asked me to undress and having holes in my underwear.
How do you relax?
Draw.
Who inspired you when you were little?
My older sister.
What were you like at school?
Very hard-working.
What was your favourite/most hated subject at school?
Art and English were my favourites. Maths most hated.
What was the book you most loved as a child?
Which person from the past would you most like to meet?
Who is your favourite author/children's author?
Margaret Mahy, opens a new window.
Why did you want to be a writer?
Because I enjoyed reading to my children when they were small and wanted to immerse myself further in their world of make-believe.
Do you have a special place where you write your books?
In bed at night when I'm trying to go to sleep. Also the shower.
What's the best thing and worst thing about being a writer?
It is great fun when it is going well, but it gnaws away at you and won't leave you alone when it's going badly.
If you weren't a writer, what would you like to be?
A famous artist.
What advice would you give to aspiring writers?
Don't worry about what other people say and just write lots all the time. Also read lots.
Read some books by Jane Cornish
This interview is from 2002.