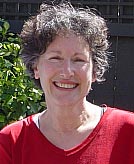 Name: Janice Marriott
Date of birth: 3 October 1946
Place of birth: England
Now living in: Wellington
What is your favourite food?
Liquorice.
Do you have a nickname and if so what is it?
No nickname.
What was your most embarrassing moment?
I can't remember. I don't remember things that are too unpleasant to think about.
How do you relax?
In a bubble bath, or walking on top of hills.
Who inspired you when you were little?
My elder brother and sister; they always seemed to be doing much more exciting things than I was.
What were you like at school?
I didn't like school. I made good friends there - some of them I still have - but I hated being inside and sitting down all the time. I guess I was restless.
What was your favourite/most hated subject at school?
Favourite would have to be stories, anything to do with stories; writing them, or having them read to us. I remember our teacher reading The Hobbit to us.
I didn't like art, or sewing anything to do with making things with your hands.
What was the book you most loved as a child?
Anything by Enid Blyton.
Which person from the past would you most like to meet?
Harry McNeish, the carpenter on Shackleton's boat, Endurance.
Who is your favourite author/children's author?
Roald Dahl. Every time I re-read him he just gets better and better.
Why did you want to be a writer?
I liked telling stories. Writing them down meant I could tell them to more people.
Do you have a special place where you write and illustrate your books?
I write upstairs in a tiny attic room that isn't high enough for me to stand up in. There's just enough room for a chair and a computer and a small window overlooking a hill.
What's the best thing and worst thing about being a writer or illustrator?
The worst part is that it is a solitary occupation.
The best part is that it makes you think deeply.
If you weren't a writer, what would you like to be?
A farmer.
What advice would you give to aspiring writers or illustrators?
Read lots of books, and re-read the ones you like the best. Re-read them over and over. Work out how those writers wrote such good books.
Read some books by Janice Marriott
More information about Janice Marriott
Janice Marriott's web site
Read posts featuring Janice Marriott from the Christchurch Kids Blog.
This interview is from 2002.